Sometimes you just like to figure things out for yourself. That goes for adults AND babies! I came into the diningroom yesterday late afternoon and found Connor walking through with the box of Cheerios I'd set up on the dining table that morning (slob!) having no clue he could get to; or any thought that he'd even TRY. NEVER underestimate your children!
I decided to just grab up the camera and run with things and see what became of it all. I got a BIG laugh out of it all and hope you'll share in my amusement...
Here he is, just getting started. He KNOWS what's in there, the problem is getting it OUT!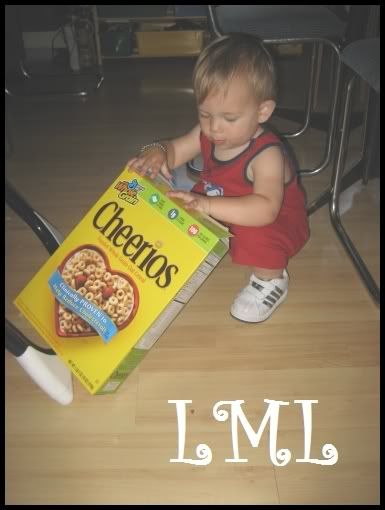 okay, got my arm in the box, but know there's that bag thingy in there mommy always rolls up nice and tight...
I'll show her! I'll just take it out of the box!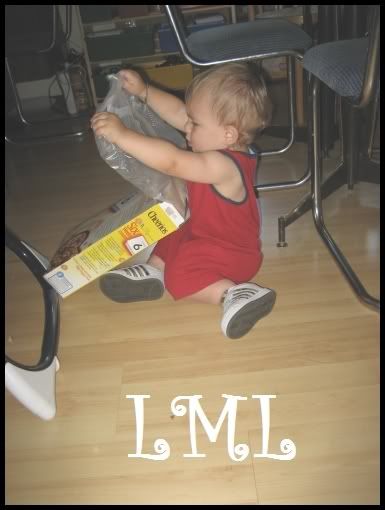 Ah-ha! I see a way in!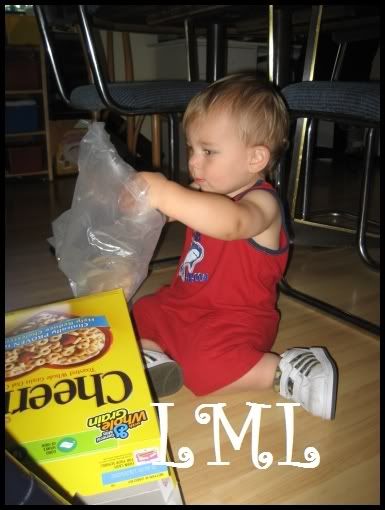 Better double-check there's something in there before I work at this too hard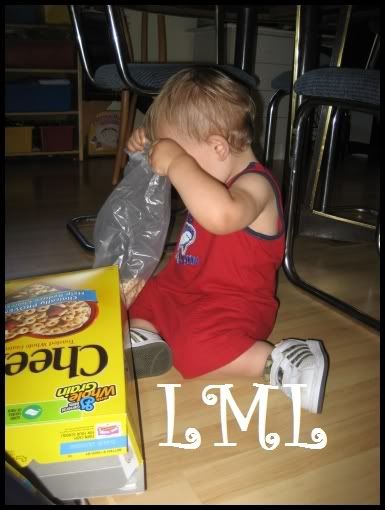 Oh yeah, baby! I see what I'm looking for!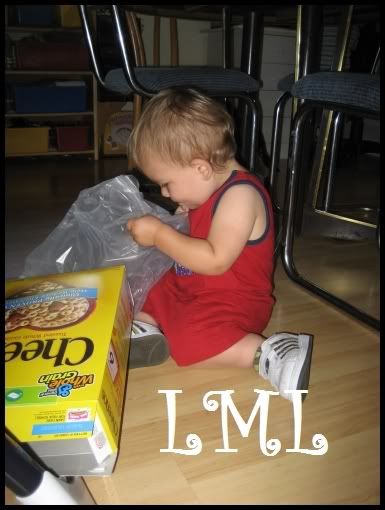 Aughhhh!!!!!! (for those of you that don't speak 14 month old baby language, that, at this moment in time means "MOM!!!!!!! Jared's trying to take this away from me!!!!! Or maybe he's just trying to help me, but I don't want to take any chances and am yelling because I know you'll help me!!! MOM!!!!!! MOMMMMMMMMM!!!!!!! HEY!!!!!!!!!!!!!!!!!!!!!!" something like that anyway....)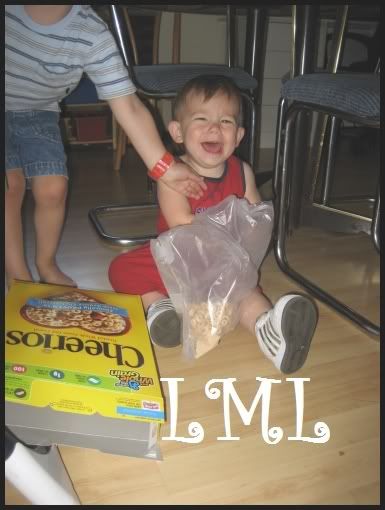 Okay, where was I again? Oh yeah...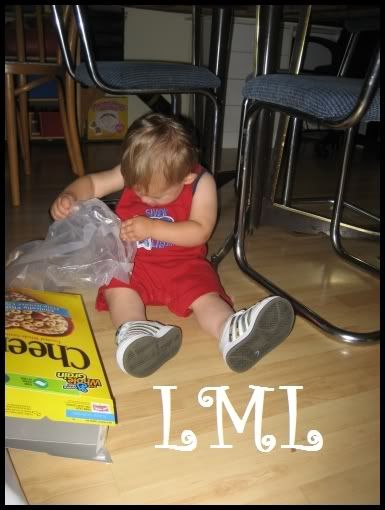 Just gotta reach a little further in...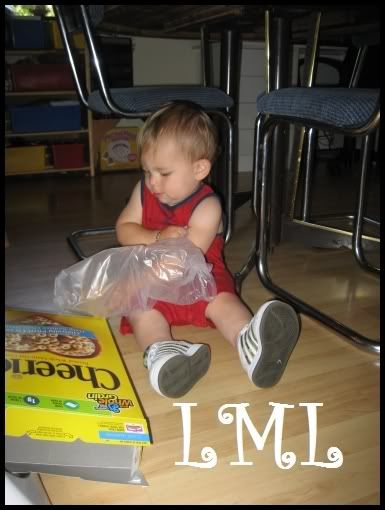 Ahhh! The sweet reward of a job well-done! A mouth full of cheerios!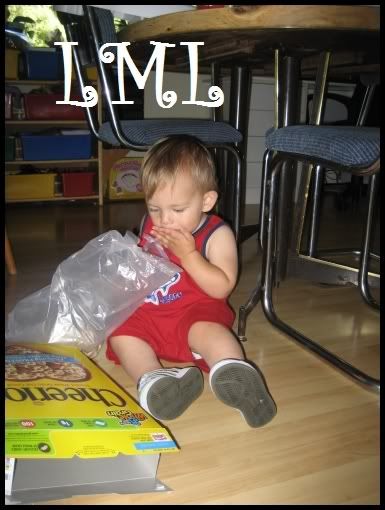 I wonder if there's any more in there? Better check!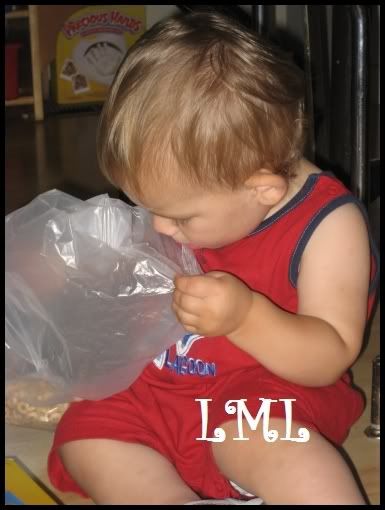 Someone should really make a cereal bag better suited to the length of a baby's arm! This is WORK maneuvering my arm AND the bag to reach down in far enough!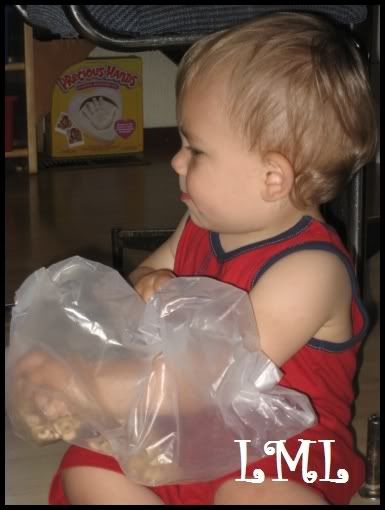 But the end result is soooo worth the effort...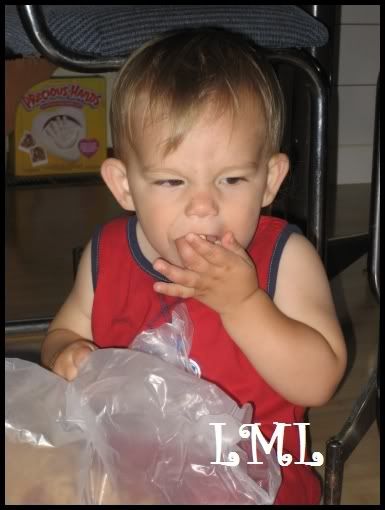 Ack! There's two sticking to my hand! That means mommy is going to come at me with a baby wipe and try to clean me up; better do something quick!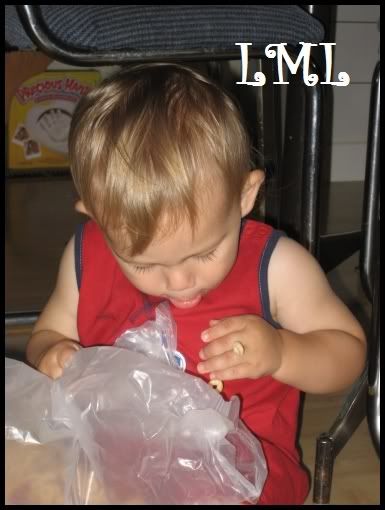 There! Take that mommy! Saved you the effort!
Hard work, I'm tellin' ya! Takes some DEEP concentration!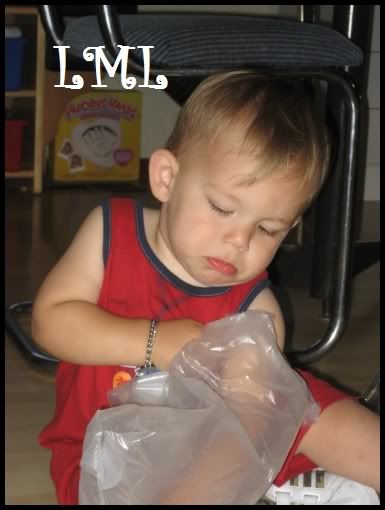 This is sooooo GREAT!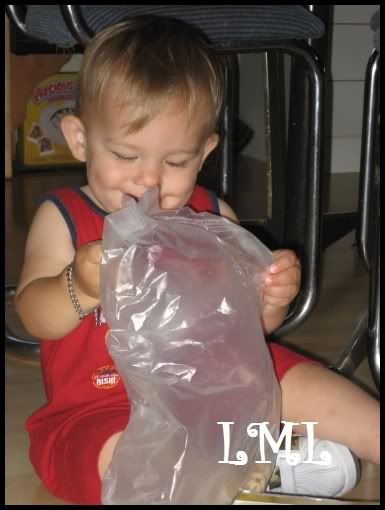 My best advice for ya people, NEVER eat Cheerios one at a time. It's best to just shove them in by the handfull; here, let me show you...