This is not Connor. I don't know who this is. But I know it's NOT Connor.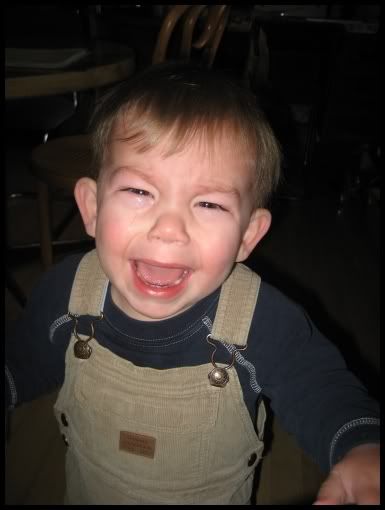 Connor doesn't want to be held every two seconds. Connor doesn't CRY all day long. Connor doesn't WHINE in between the crying spells. Connor doesn't refuse to eat his food, and then two seconds later, be crying and pointing at the food he just refused. Connor doesn't beg for a drink and then promptly throw it on the floor when it's given to him. Connor is a tough little cry that doesn't cry over every tumble or frustration. Connor sleeps nicely through the night. Connor doesn't wake up screaming at the crack of dawn (or before!), and then be totally inconsolable.
I miss Connor.
I also miss the calm, less frazzled mother I used to be!
For my sanity and Connor's tear-ducts, please pray these these canine teeth giving him so much grief break through SOON and leave us in peace!!!!!