The kids and I attended Connor's preschool event, Trunk or Treat, yesterday afternoon, and we had a great time (as usual!). The rain held off for us, we had LOTS of participants, and we came away with some yummy treats and prizes.
Here are Little Orphan Annie, Knight in "arming sharmor" (as Connor says it), and a SWAT team guy, all lined up in front of our decorated trunk: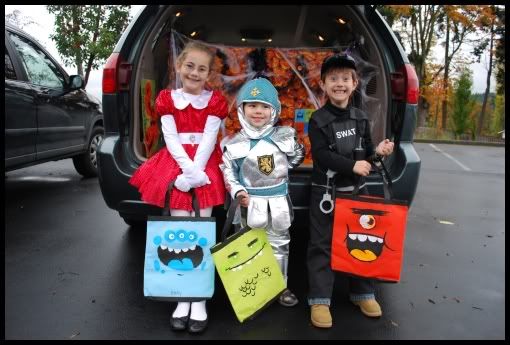 NORMALLY, the kids would have trick-or-treat bags that coordinate with their costumes. I even bought the materials to make the bags. But that tricky little thing called LIFE got in the way, and it was either stay up extremely late and stressing over it, while also trying to tackle more important things, or admit defeat for this year and buy "normal" trick-or-treat bags. I admitted defeat and bought bags. And you know what? The world didn't end! The kids loved their bags, which will hold more candy anyway... Life is NOT all about the coordinated trick-or-treat bags.
I still feel like a bit a failure. LOL
PS Em went to bed with sponge curlers in her hair in order to have a mop of Annie curls on her head for her school Halloween party and parade later today. I'm anxious to see how things look once she's awake and we take them out. Could be interesting!