ME!
Maria
was so sweet to give me another award! I've been really enjoying keeping up with her blog and reading about her family.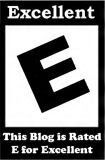 I'm supposed to give this award to ten people, but I honestly don't know ten people well enough to give it out to that many people! I'm going to give it to my friend
Kristina
over at "Confusaled". She just recently posted the scrapbook pages she did of her wedding pictures, and if you look at the pictures closely, you'll see yours truly, and Emily (at 15 months old!).
Thanks again Maria! And Kristina, enjoy the award! (And Happy Birthday for tomorrow!)