My kids have always been thrilled with lollipops. The DumDums brand lollipops are about the greatest invention on the planet, in my opinion. They're small, so are still a great treat, but don't take nearly as long to eat and don't make nearly the mess. They heal all wounds (ever give a crying child a lollipop?), they have a shelf life of practically FOREVER, and they're CHEAP!
Uncle Corey understands the thrill of lollipops. He gave Emily two bags of DumDum's lollipops for Christmas when she was 2.5 and she went NUTS. It was her favorite present. She hugged the bags and talked nonstop about how much she loved lollipops.
(look at what a munchkin she was!)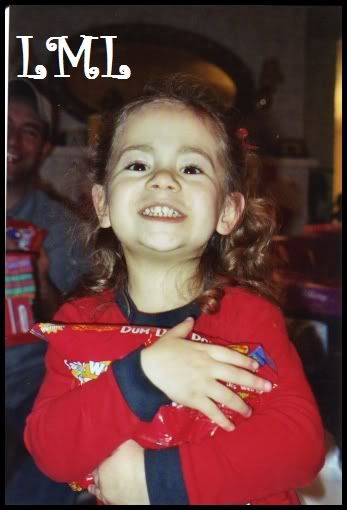 Claire's understands the thrill of lollipops. When Emily got her ears pierced (her reward at 3yrs 3mos old for learning her entire address and phone number), she cried for a whopping 30 seconds, max, until they handed her a red lollipop.
(see the pinkish residue around her mouth? LOL!)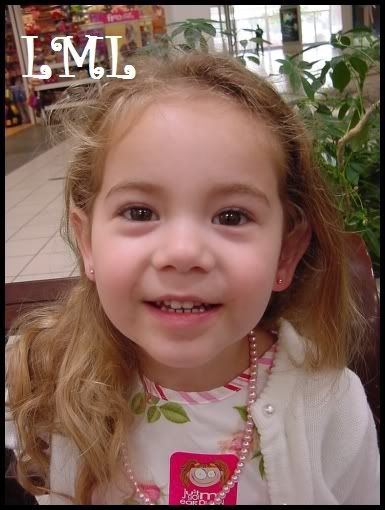 The doctor's office understands the thrill of lollipops as well. When we were there on Friday about Emily's Urticaria, they gave all three kids lollipops on the way out. The horrible WHINING that had previously been coming from the boys was suddenly QUIET. Blissfully QUIET.
And Connor...He pitched a royal fit this morning when he saw Emily and Jared eating their lollipops from Gram and nobody had given him his yet, so we set him up in his highchair with a bib and let him have at it.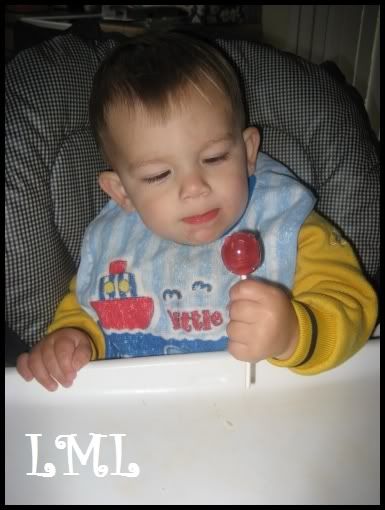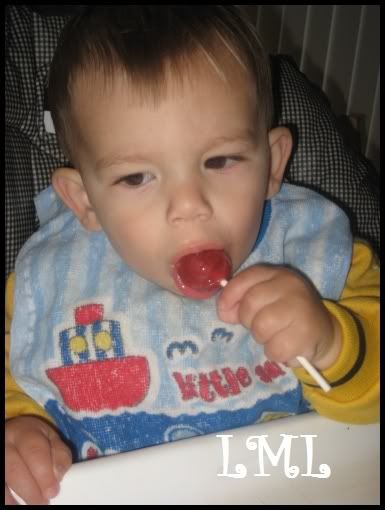 Someone's had more than their fair share of lollipops, wouldn't you say?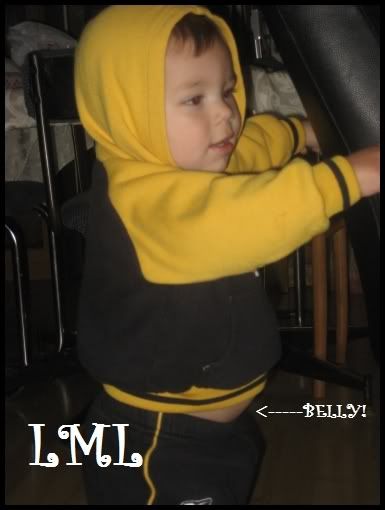 LOL Just kidding. He's got a pot belly, but when he raises up his arms, it goes away and he's solid as can be.
Here's some friendly advice from me today (on my 7th anniversary! Happy Anniversary to me!!): ALWAYS have some lollipops on hand.