We got a call early morning Sunday, March 4th from Dan's mom, letting us know that Dan's grandma ("Grammy", who was my FIL's mother) had passed away in her sleep overnight. Sunday morning was spent in a bit of a tearful blur as we processed the news. I only got to meet Grammy a handfull of times, but she welcomed me and loved me as if I'd been around forever. She was a tiny little woman, but goodness, could she give a hard hug! Her spaghetti sauce was the only sauce I can truthfully say I actually liked.
We scrambled to get airfare, lined up child-care and pet-care, and made the trip across the country as soon as was humanly possible. It was an emotional rollercoaster of a trip, as we gathered with family and cried together, laughed over funny memories of Grammy together, etc. It was so good to be with everyone for comfort.
I don't have many pictures from our time in PA, as it just really didn't seem appropriate to be taking them, but I have a few random pictures from activities we did during our stay.
One of the days, a large group of us headed downtown to the strip district in Pittsburgh to do a bit of shopping. Dan and Corey and I got a laugh out of the directions we saw stapled to a Terrible Towel that was for sale: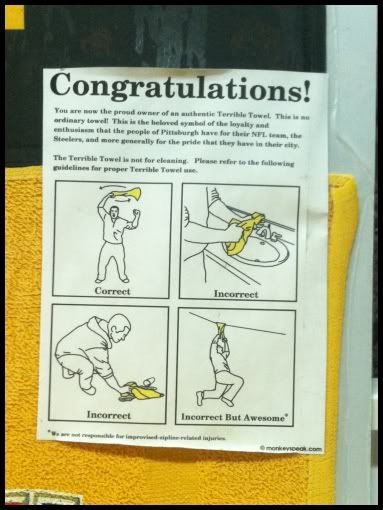 We also went to Pennsylvania Macaroni Company, where one of Dan's aunt's is THE cheese lady (so many people come in to get fancy cheeses on the weekends they have to take a number!!!). While we were there, we came across this $85.99 HUGE container of Nutella:
Another day, we met up with some of the family from Dan's mom's side of the family, and we went to get some Vincent's Pizza, which is sort of THE pizza to get. It's quite a pizza!! (compare it to the plate and my MIL's hands in the background)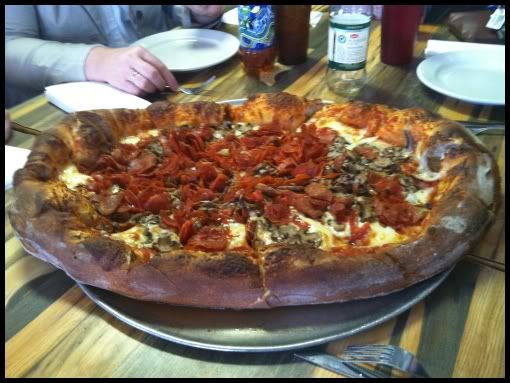 And if there's a silver lining to the last-minute scramble across the country, it's that it put me within 2 hours of my dear friend Kaci in Ohio, and her new baby, Emmy, so we met up for lunch. One of her friends, Cindy, was in town visiting from CA, so I got to meet her as well!
Emmy was/is a sweet little princess baby and I loved the entire 2.5 hours she snoozed in my arms. The lunch was over WAYYYYY too quickly for my liking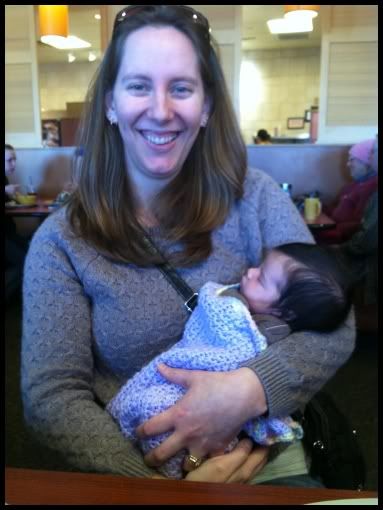 The week ended in the blink of an eye, and before we knew it, it was time to head home. Grammy was an amazing person, and I'm sad the kids and I didn't get more opportunities to be around her. She's left behind a lot of grieving family and friends, and she will be greatly missed. XOXO