The animals really have no problem with shoving their heads right into your vehicle and nosing around for food!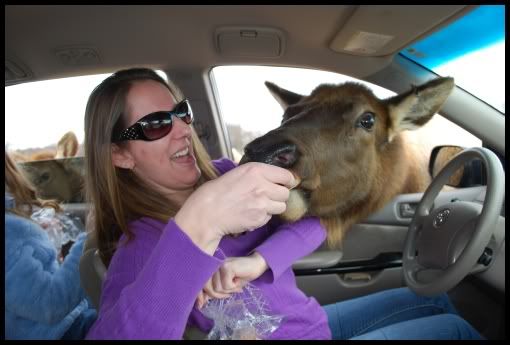 Several times we'd be busy feeding an animal from one side of the car, and totally not notice that some were coming up to the OTHER side of the car, until someone was getting licked in the neck or gently head-butted, or heavily breathed on by something with STINKY breath... LOL!! The llamas absolutely CRACKED US UP the way they trot alongside your car as you're driving along, heads bobbing into the window. Hilarious!
The buffalo use their long tongues to wrap around the piece of bread in order to pull it into their mouths, which means you are pretty much guaranteed to get licked during the process at one point or another. Poor Connor got a buffalo that couldn't quite figure it out or something, and kept wrapping it's tongue around Connor's wrist instead of the bread. You can see by his expression he wasn't overly thrilled:
Then there was a sneak attack and a direct lick to the face! aughh!!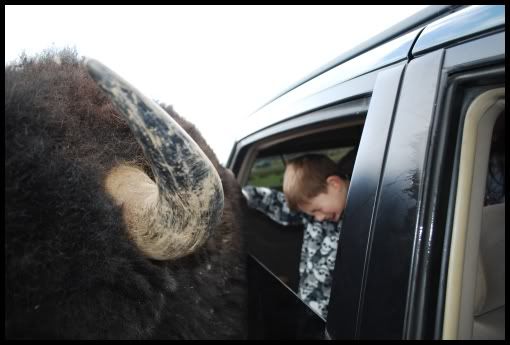 Emily got uber slobbered at one point, too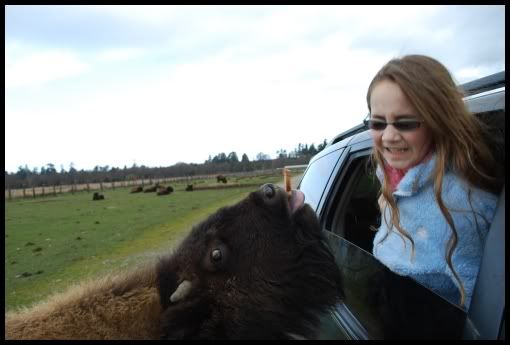 The buffalo STUNK. badly. Jared agrees:
We asked for toothy smiles, and even the elk cooperated!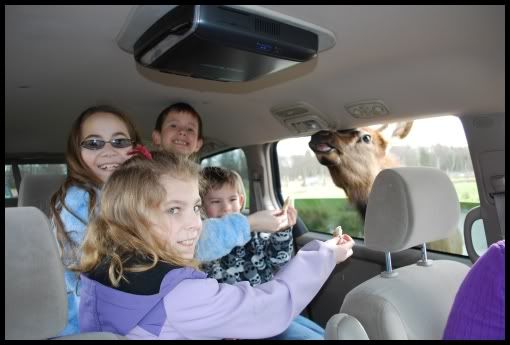 And you can't have a large group of kids without ending up with a silly faces picture: