Jared had a swim meet over the weekend. It was a little different than the other meets we've been in, because it was only a one-day meet, so a lot of Jared's regular events weren't an option. He swam the 25yd freestyle, the 50yd freestyle, the 100yd freestyle, and the 50yd breast stroke. He was also told last minute he was filling as the freestyler in the 200yd Medley Relay in the age 12 and under relay event. One of the older kids was a no-show and Jared was the next fastest 12 and under boy from his team at the meet. The relay took 4th place out of 9 teams, which is pretty awesome, especially considering Jared is only 8. :)
You can see him in the center of the picture wearing dark goggles and black swim suit standing next to a kid in blue, who was in Jared's relay, and towers over him!
Thank goodness for the iPad, because it kept Connor entertained for the entire four hours we were at the meet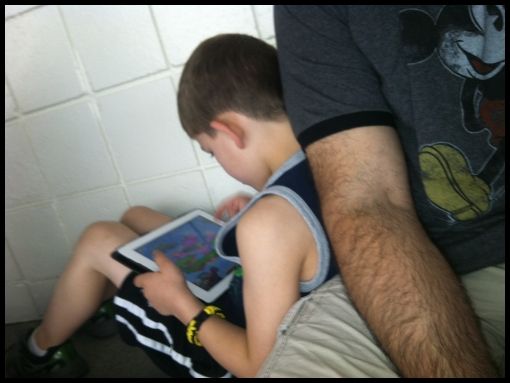 Jared had a pretty good meet. He placed 6th out of 20 in the 25yd free (got a personal best time, too), 21st out of 31 for the 100yd free, 12th out of 27 for the 50yd free, 6th out of 23 in the 50yd breast, and the relay he participated in got 4th, so he came out with three ribbons from five events. Not bad!
His next meet is in June, and falls the same weekend Emily and Connor have their dance recital (ballet for Emily, hip hop for Connor), so he will only be participating on Sunday (50m breast and 100m free). Connor will be in that meet as well doing the 50m breast. He's not ready for the 100m events (and now that we're in long course season, there aren't any 25's for him).