The co-coach of Jared's t-ball team has a cabin on a lake, so offered it up as the location for the end-of-season party, instead of the traditional "meet at Round Table Pizza and try to keep the kids reasonably entertained and under control." FABULOUS choice!! Two families weren't able to make it, but we had 8 of the 10 kids in attendance, and it was wonderful! We had a GREAT group of boys on the team, and all the families were very involved and supportive. Pretty much everyone arrived by about 2pm, and most everyone stayed until about 10pm. The boys and the siblings got to swim, run around, have squirt "gun" fights, play tag, kayak, paddle boat, etc. As it got darker, we started a fire and gathered around for S'mores and conversation. It truly couldn't have gotten any better!
After the potluck BBQ, Dan hosted a little awards ceremony and passed out the boys' medals. He had something personalized to say to each boy, which was really neat.
Jared was so pleased to get his medal from his daddy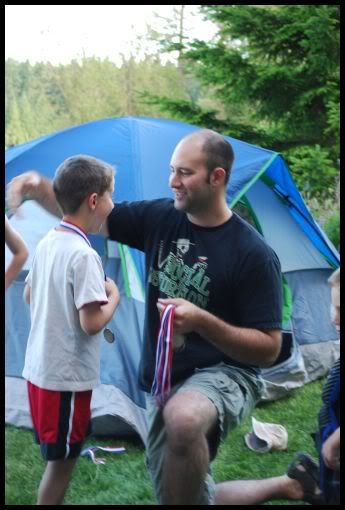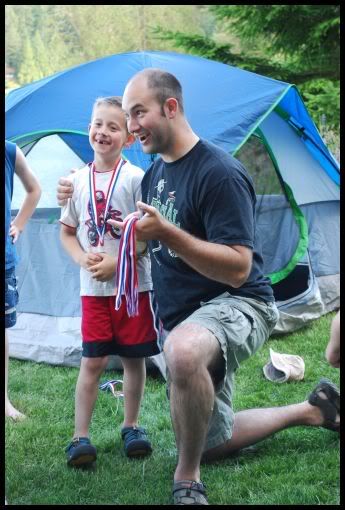 One last team cheer to end the season! Great job boys! Thanks for a wonderful season.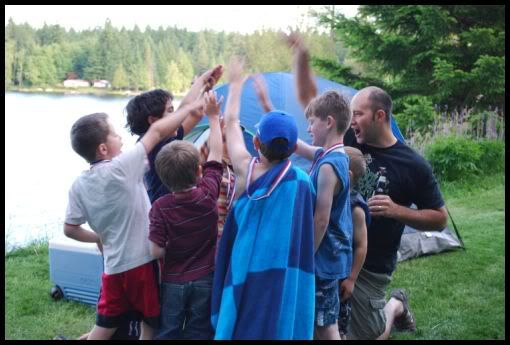 Anyone who wanted to bring a tent and stay the night was welcome, but my family and the co-coach's family were the only ones that ended up staying. It was my kids' first sleeping in a tent that was NOT pitched in our backyard. LOL! It occurred to me after the fact I should have taken a picture of them in front of the tent to mark the occasion...