Yet another Pinterest project!!! I made this shirt for Emily Grace as part of her Valentine's Day gift from Dan and I. She absolutely loves it, and got TONS of comments on it.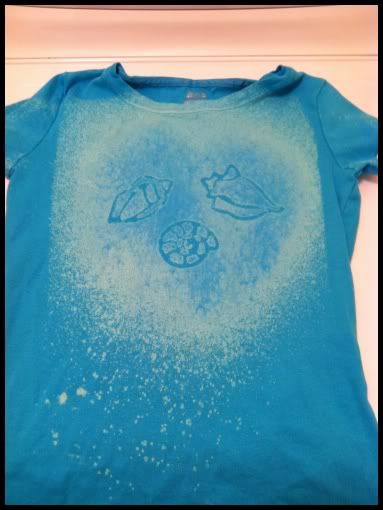 The best part? It cost me $5 for the shirt from Target, and probably about five minutes (or less!) to cut the template (using my Cricut machine), lay it on the shirt, and spray the bleach on. The turquoise shirt bleached to a light greenish color, which are very "beachy" colors and perfectly suited to the seashell images I used!
There's room for improvement, having a better idea now what I'm doing (being a little less heavy-handed with the bleach, letting the bleach dry before rinsing/washing, etc), but I'm overall really pleased! I can't wait to hit up Target for more plain t-shirts, so I can make some more. Hurray for Pinterest!