Once upon a time, there was a little girl named Emily Grace, who had LONG, thick, wavy hair. In 2006, when she wasn't quite four years old, she had her very first haircut EVER. The stylist said there was nothing wrong with her hair, and that she would be willing to take off a half inch, but would be saddened to be asked to take off any more than that. Emily's mother happily agreed, and a half inch was removed from the ends of Emily's hair. It was barely even noticeable.
A year or so passed, and Emily's hair had grown even longer, and her mommy was enjoying all the braids and ponytails she could do with the long hair, but Emily was really starting to want her hair super short like her preschool BFF (which was ADORABLE on her blond, straight-haired BFF, but hard to imagine on Emily), and we finally compromised that she would cut 8-9 inches, leaving it just below her armpits. Cutting 10 inches would have allowed them to donate it to Locks of Love, but Emily's mommy was very scared at the idea of cutting that much off all at once.
(Emily BEFORE)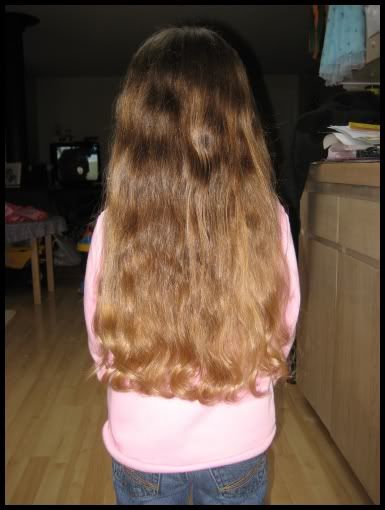 Unfortunately, the stylist this time around had zero qualms about chopping off all those waves, and got a little scissor happy and took off 10.5 inches. Now, not only was Emily's hair shorter than we'd requested, but we HAD cut off enough to donate to Locks of Love after all, only it was totally unusable all over the floor
(Emily AFTER)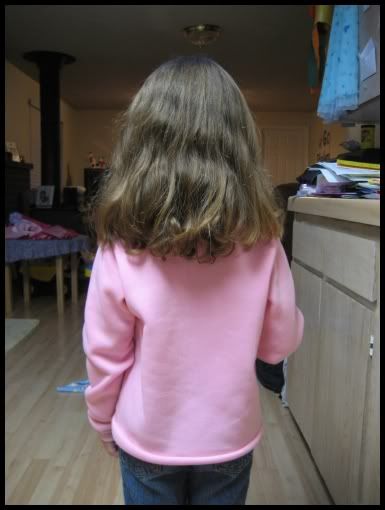 Emily and her mommy made a deal to grow their hair out together in order to donate it.
The mommy donated 13 inches in March 2009
Emily donated 13 inches in June 2009 to Wigs for Kids
, as well as raised over $600 to help with the process of creating the wigs
Emily is currently growing her hair out in order to be donated yet again! She hopes to work with her elementary school this fall (2012) to do a school-wide fundraiser, and to see if there are any other girls willing to donate their hair. She thinks that she'll have enough to donate by about October (while still leaving enough to pull back into a small bun--the required dance class hairstyle).
Emily's mommy is so proud of her!