In no particular order, here are some of the rides we enjoyed during our stay:
Here are my kids, 20-ish minutes into the line for Space Mountain (before we had a clear understanding of the whole Fast Pass deal...), and about 10 minutes before they announced the ride was closed for an undetermined amount of time, at which point we left and came back later with Fast Passes (given to us for being stranded on a different ride!). I love how the Goofy teeth on Connor's hat make him look like he has creepy blank white eyes...
Em and J on Astro Blasters. This ended up being Thomas's favorite ride from what I could tell. I stunk at shooting the targets (couldn't tell which of the many red laser dots all over the wall were mine in order to know how to adjust my "gun" to aim better)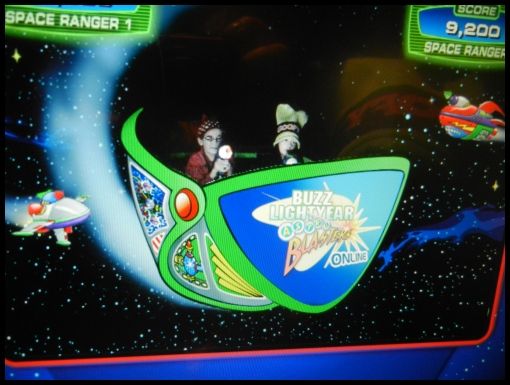 A little rain mid-day one of the days didn't slow us down too much (maybe sped us up since this was the least crowded day of our entire visit! ha!). We were damp and a little chilled, but nothing horrible...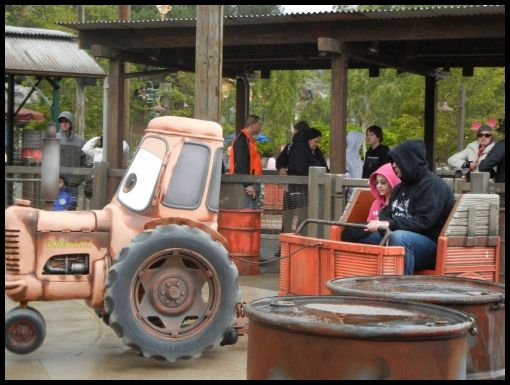 I rocked the Toy Story Midway Mania ride. I had "High Score in your vehicle" (your actual little car shows the score of you and your ride partner--in this picture Jared was my partner, but your "vehicle" has a total of 8 people, and I beat them all! *grin*). The second time we rode, I had High Score again, but I can't find the picture.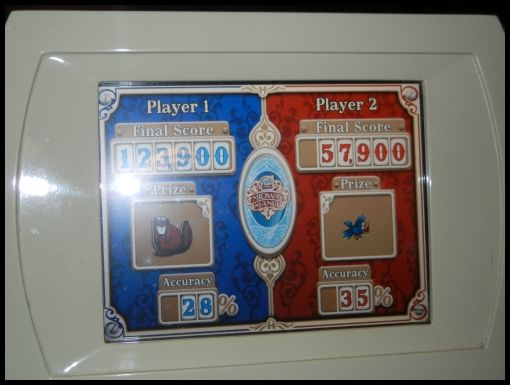 The three little boys were awesome on this ride. You lean in the direction you want your hover tire-thingy to go in order to bump into other people, and they were light enough they flew all over the place! Dan and Em and I hardly went anywhere. Not sure how Tiff and Aaron felt they did.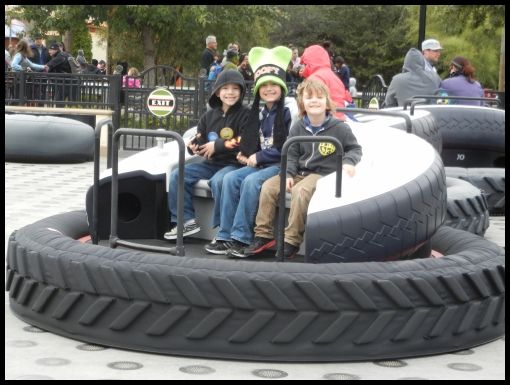 Cars Racers ride was a little more intense than I expected! Hair flying all over the place as we were whipping aorund corners and over hills. wow! We rode twice, but I missed out on photographing the monitor of one of the cars from our 2nd ride.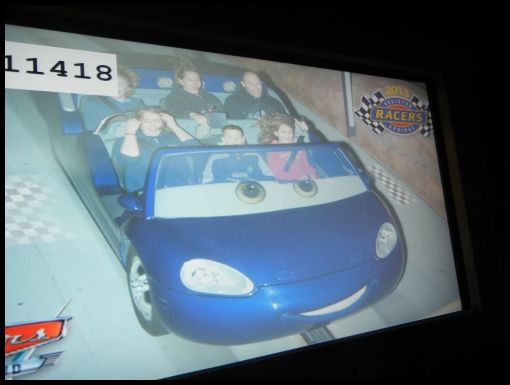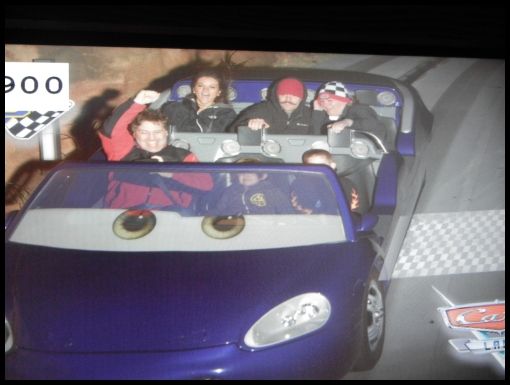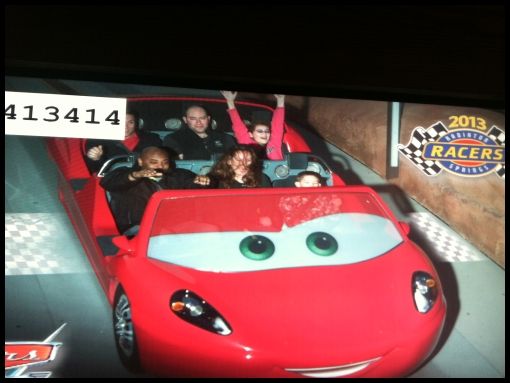 Thank goodness for Smart Phones making standing in line a little more entertaining! I'll admit to my fair share of this: (thankfully, we'd figured out Fast Passes at this point so lines on the major rides were 20 minutes tops! WOO HOO!)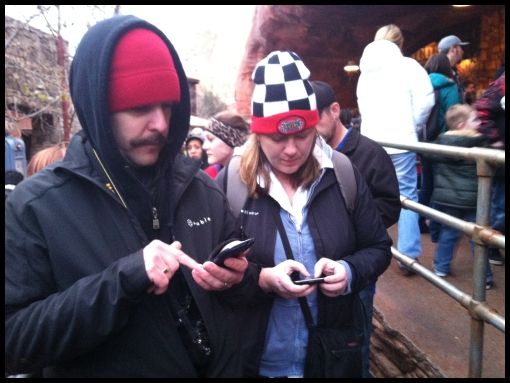 Connor's absolute FAVORITE ride was the California Screamin' roller coaster in California Adventure. It goes from 0-60mph in a flash and sends you off on a wild ride, which includes an upside down loop! (in this picture, the loop goes around the sun design which is the smaller circle lit up on the left side). He rode it NINE TIMES (with Dan as his somewhat willing partner in crime. Em and J rode it 4-5 times)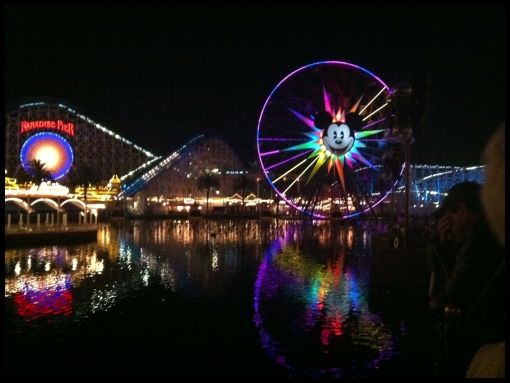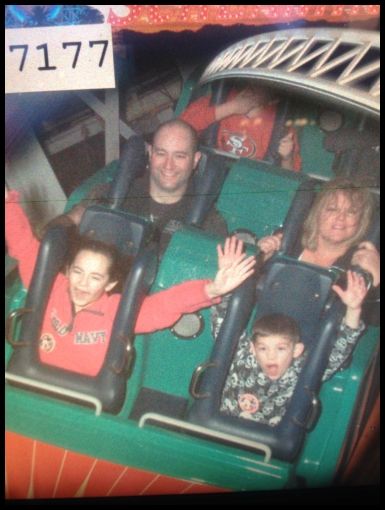 At one point, the line was ridiculously short so Connor was trying to bypass having to wind around through the empty pathways (lined with metal "fenches") by jumping over them and whacked his shins: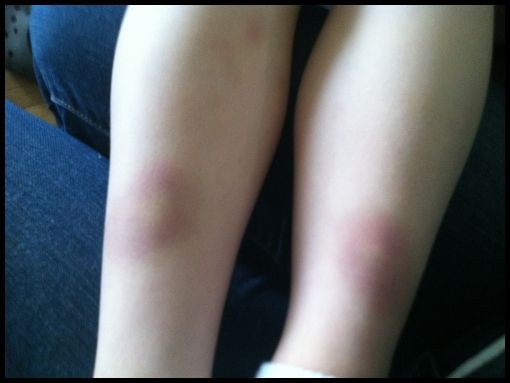 Just before Star Tours started. HOLY HECK, this ride was a lot more intense than I was expecting! I wasn't entirely convinced my seatbelt was going to hold me! ha! I'm thankful I had my motion sickness patch, but I'll admit it still got a little iffy... BEWARE if you are prone to motion sickness!!!! As an added sidenote: We did this ride twice and the screen was different each time. It's rumored that there are 54 different simulations for this ride; I guess they want you to keep coming back!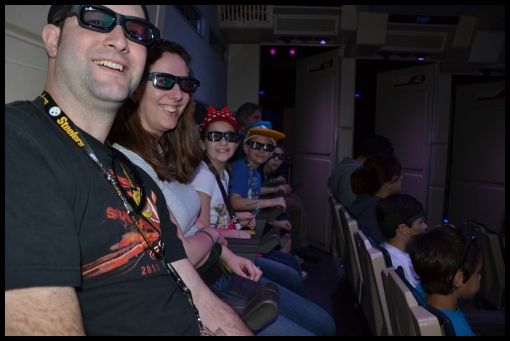 Only a small percentage of the pictures from our trip include any of the adults, and this was actually a pretty decent one, so I thought I'd share it (we were waiting for the Jungle Tours ride, or whatever it's called)
Stranded and bored on the Sailing Ship Columbia (aka Pirate Ship). For our inconvenience, we were given Fast Passes to be used on any ride at any time that day, which is pretty much how we discovered how awesome Fast Passes were, so all was not lost!