Jared had a swim meet Feb 2nd and 3rd. I haven't shared pictures yet because I've been waiting for him to get his ribbons, but for whatever reason, they haven't been distributed yet. Jared has been asking and asking me to share this picture of him with his friends Nicolas and Gabe (three of the four kids that did the 200yd Freestyle Relay) just after they took first place!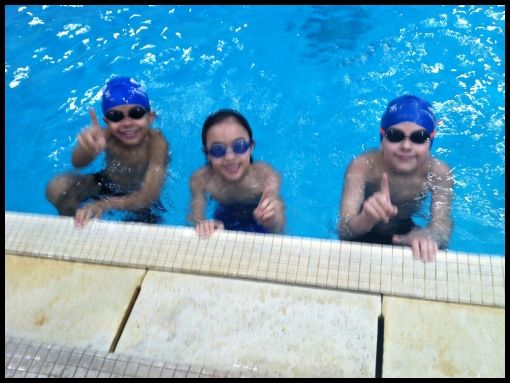 His events, finishing times, and overall finishing placement are as follows (in the order he swam them)
Saturday, Feb 2nd
200yd freestyle: 3min 16.75sec, placed 5th overall
200yd Medly Relay (he swam the 50yd breaststroke portion): His 50yd breast was 48.03sec, placed 1st overall
50yd breaststroke: 54.14sec, placed 6th out of 20
50yd freestyle: 41.33sec, placed 8th out of 26
Sunday, Feb 3rd
200yd freestyle relay: he swam 3rd, and his portion was 40.40sec, placed 1st overall
25yd breaststroke: 24.85, placed 1st overal
100yd breaststroke: 2min 00.33sec, placed 6th overall
25yd freestyle: 20.07sec, placed 4th overall
100yd breaststroke: 1min 31.57sec, placed 8th overall
He got a ribbon in all 9 events, got "personal best times" his 7 regular events, PLUS got his best ever times in each of the relays. It was a GREAT weekend for Jared! Also pretty awesome when you take into consideration that he was swimming against mostly 10 year olds (with the exception of the 25yd events, which are age 8 and under events), and he's only 8! He's really taken off with this swimming thing.