As part of science class, the first graders got to "raise" Darkling Beetles, starting from the mealworm stage, and ending with bringing a Darkling Beetle home (with parent permission) to care for for the 1-3 months that they live.
We've had Connor's beetle for close to a month now, and it seems to be doing well! We give it a little chunk of apple or potato (this is how it drinks), and it came with a container full of bran flakes.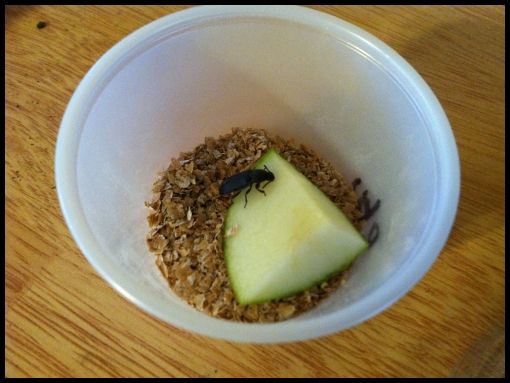 I included this picture of me holding the container so you had a better size reference for the beetle and it's little container home. Hardly takes up any space at all, and just sits on a shelf where we'll see it and remember to care for it.
Last I heard, Connor still hadn't chosen a name for it, but I see him frequently checking on his beetle, and he's good about asking if his beetle has fresh apple or potato chunks. As far as pets go, this one is pretty darn easy!