We celebrated Easter this past weekend with my parents because my dad works this coming weekend, and also, the weather was gorgeous this past weekend, and for all we know, it will rain this coming weekend. We figured we'd take advantage of the good weather and Grandpa being off work!!
I didn't end up taking any egg hunting photos. The kids were running every which way and I figured we'd take a group photo afterwards, but then I apparently forgot...
I do have a photo of Grandpa showing off a card trick for the kids. I'm glad it's one I already knew how to do, or it would have driven me NUTS trying to figure out. LOL
Emily and Grandma ended up on the floor doing a hidden objects paper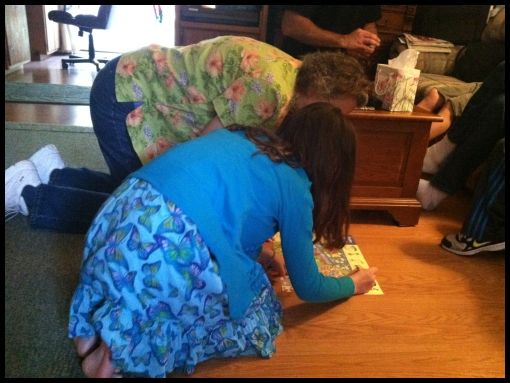 Connor talked my dad outside to mess around with the truck with the "bucket" lift on the front, and then the kids had to search a bit more to find the final three eggs (after counting all the found eggs, we realized three were still hidden). Some of the eggs had quarters inside instead of candy, and Connor LOVED that! He was obsessed with all of his quarters, and how it was an easy way to earn money. haha!
Pretty sure Jared somehow managed to eat about half his candy while the rest of us were clueless. That kid can inhale sweets in the blink of an eye. When we were unloading all the new treats into the treat bin at home, Jared's bag was full of lots of empty wrappers. He still ate a good dinner, and I guess the quicker he eats it, the quicker it's not sitting around my house tempting me!
Always a good time at Grandma's and Grandpa's.