One of the reasons we opted to do 5 days at the Disney parks this trip was because last time, three days was BARELY enough time just to ride all the rides, and so then forget about all the parades and shows, and little "stuff to see" along the sidelines. We really wanted to fit in all the "extras", while still having time to get our fill of rides. We still managed to keep VERY BUSY, and I would probably never do five days again (OH, MY ACHING FEET!!!), but in doing so this time, we had time to attend a course from the Disney Animation Academy in Disney California Adventure, among many other fun things! The kids all REALLY wanted to take the "learn to draw Goofy" class, but the class available at the time we were in the area was Phineas and Ferb (which they all ended up liking just fine!).
You sit down in a "classroom" with a large piece of paper on a clipboard, and a pencil with no eraser. The idea is that it's a sketching class, and you don't need to erase anything. You make a series of light lines in the general shape of what you're drawing, and then darken what you plan to keep. We weren't told how big or small to make our sketches, so all 8 of us ended up with different sized drawings in various positions across our papers.
Connor's is my absolute favorite, purely because he couldn't draw a light line if his life depended on it (one of his classroom goals by the end of the school year is not pressing so hard with his pencil when he writes!!). Despite the fact that his sketch lines and his "keep" lines are all super dark, you can still totally tell it's Phineas and Ferb.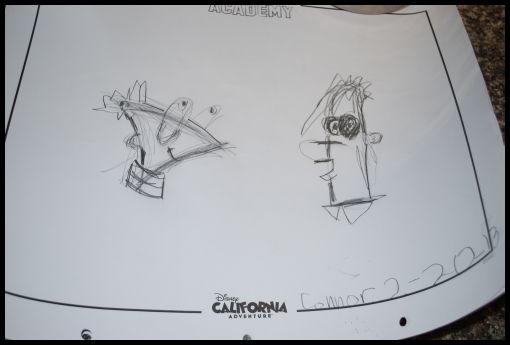 Jared has been drawing Phineas and Ferb over all sorts of paper scraps around the house since taking this class. Here's his drawing from our trip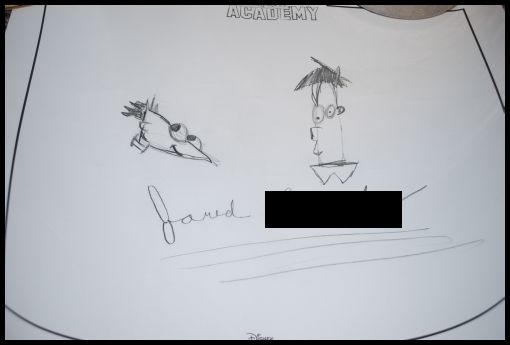 Emily's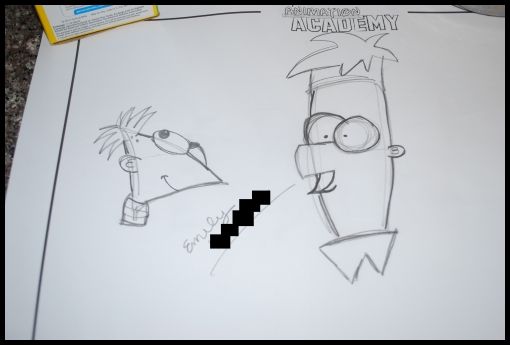 Dan had to be the funny guy giving the character on the left Cookie Monster eyes (I've never seen the show so I don't know which character is which! ha!)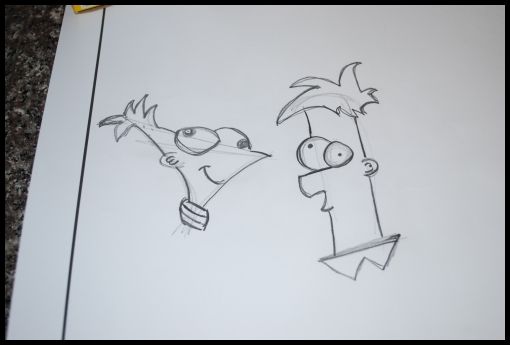 And I ended up drawing the one on the right with a really fat neck. haha!
I consider myself as having ZERO drawing talent (I joke that even my stick figures look bad), so imagine my surprise when I turned out a fairly decent drawing of Phineas and Ferb! I think all 8 of us had a good enough time attending the class (which maybe took 20 minutes??), and at least the four adults were just happy for the chance to SIT DOWN!
I wish I'd thought to take a picture of the four kids with their drawings, but we pretty much rolled the drawings up, stuffed them into backpacks, and headed out the door to do more exploring...