Dan and I drove nearly 3 hours to The Gorge Amphitheater over the weekend in order to see Jack Johnson. I had never been to The Gorge before, and it was AMAZING. GORGEOUS view as you sit on the grass (you can see a bit of the view in the picture below), as if that wasn't enough, the sun was HOT, the sunset was beautiful, and laying under a clear, starry sky listening to JJ sing live was just, well, it was awesome!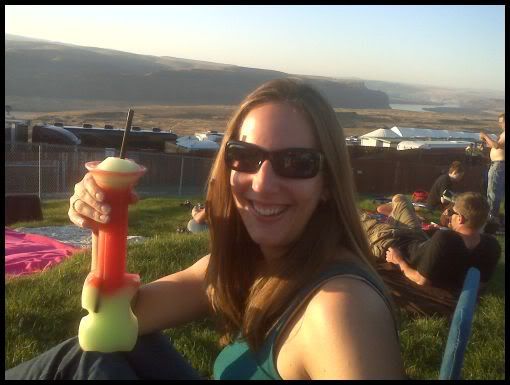 We arrived with about 20 minutes to kill before the main gates opened. We stood in a HUGE (HUGE!!) long line to get in, but it actually went quite quickly. Dan immediately got himself an extremely over-priced beer, while I filled our water bottles up at the hydration station. We scoped out the food, then found a place to sit. We chose to be off to the side where the grass was broken down in little "platform" type rows, instead of just being a big steep slope like in the center. It was PERFECT. Dan chatted up the people around us for awhile, and then headed up to get me an over-priced guitar-shaped margarita. I got a text from him about 10 minutes later stating that JJ had come out onto one of the little stages about ten feet away from him in line and was doing a mini show.
NEXT TIME I'M STANDING IN LINE TO GET MY OWN MARG!!
He took a picture on his cell phone, but hasn't emailed it to me yet so I can use it in my blog post...
Vee Avi started her portion of the show pretty much right at 6pm. I'd never really heard of her before, but she really has an amazing voice. Very clear and pretty, and I really liked the mellow style.
G Love and Special Sauce (more people I'd never heard of!) came out next, and put on an upbeat show. They were kind of rappish, which isn't really my thing, but I rolled with it and enjoyed the experience well enough.
After the sun had set and it was getting dark, JJ came on stage and the crowd went NUTS! I wish I could tell you what he opened with, but I've forgotten (too many good songs were played to keep them all straight!). A few songs in, towards the end of one of the songs, he suddenly just sort of mumbled/hummed a bit of the verse, and I had to laugh because it was clear to me he'd just forgotten the words!! ha! I'm honestly shocked it doesn't happen more often. They sing so many songs, sooooo many times over the course of their careers; I can see getting lost in your thoughts while you're singing and forgetting where you were... The crowd was totally forgiving and cheered even harder for that song than the previous ones. He thanked everyone at the end of the song for not boo-ing him for forgetting the words. LOL (A friend pointed out that at least we knew for sure he wasn't up there lip-syncing!).
For not being the type of person who enjoys going to concerts, I will admit to being quite apprehensive about driving across the state to sit outdoors for hours on end in a huge crowd, but it was amazing! Being off to the side on the grassy layers meant people weren't crowded in nearly as tight as on the more main hill, and I didn't have to stand around for the whole concert like you would at a concert at Key Arena or something along those lines. I got to lay on a blanket, snuggled up to my husband, under a beautiful starry sky, and listen to the relaxing, yet upbeat tunes of JJ. I can't say enough about how good of a time I had! Dan's truthfully not all that into JJ (he insisted we get tickets because he figured it was a show I would enjoy and he really wants to get me more interested in attending concerts with him), but even he commented SEVERAL times throughout the night about how awesome it was.
We'd also been a little "worried" about how long it would take to get out of the parking lot after the concert was over (parking was FREE, btw!!), but it was all very well-organized and we cruised out with no problems whatsoever.
It was a great day/night with my hubby, and I'm so glad we went. Thanks for the awesome show JJ!!