As many of you probably know already, LAST March (as in March '09), I cut off TONS of hair and donated it to Locks of Love. The stylist that cut my hair ended up cutting it way shorter than I originally requested, and gave me a somewhat layered hair-do (there were basically two layers; short and shorter...LOL). People RAVED about my hair after the fact, but I was very unsure that it was really "me". Over the next few months it grew out a bit and was looking awkward (in that "not long enough to be long, but getting too long to be short" sort of way, and the layers were looking extra funky due to the in-between length), so in June, after Emily cut off and donated HER hair to Wigs for Kids, I went ahead and had the gal repeat the cut from March. MORE raves about my hair, but it finalized things in my own head that it was not a style I liked on myself and needn't ever repeat.
That said, I spent the next year (and a little bit longer) afraid to have anything done to my hair at all. As a result, the style grew out to a length I was much happier with (it could be easily pulled back into a ponytail, for one thing), but the ends were getting really dried and scraggly, and the two layers were still rather awkward. I finally made up my mind to be brave and have something done. I went into the place I've been taking the boys for around two years now, to the same gal that does their hair, and told her I needed the ends cleaned up, the existing layers dealt with, and was very firm that I wanted to keep enough length when all was said and done that I could pull it back into a ponytail without needing clips and bobbypins and whatnot. She went to work, while I nervously sat there hoping for the best.
She took 2-3 inches off the main length, gave me feathered layers in front that start a bit above my shoulders, and then gave me very subtle layers through the back. MUCH more "me", I have to say!!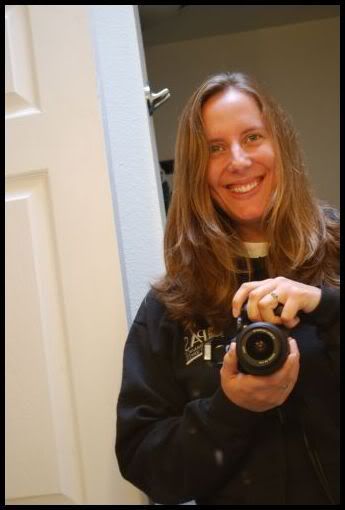 The best part is that it actually looks better air-dried over blow-dried, so I've just bought myself and extra 10-15 minutes in the morning! WOO HOO!! Or maybe the best part is that for less than the price of the cut I DIDN'T like very much from another place, I was able to get both Connor and I done...and I liked the end result! Sara had better never retire becaue I don't know what the boys and I will do! And I'm totally taking Emily there from now on as well.