The company my dad works for owns a large section of property at a lake about an hour's drive from where we live, and they've used it as a campground, complete with a roped off swimming area, playground, short basketball court, beach volleyball area, and fitness trails. When I was a kid, we used to go camping there all the time over the summer, and would do day trips to swim and play. I haven't been in YEARS, but my mom invited the kids and I out there earlier this week. Here are a lot of pictures of our time there (but not nearly as many as my mom took!):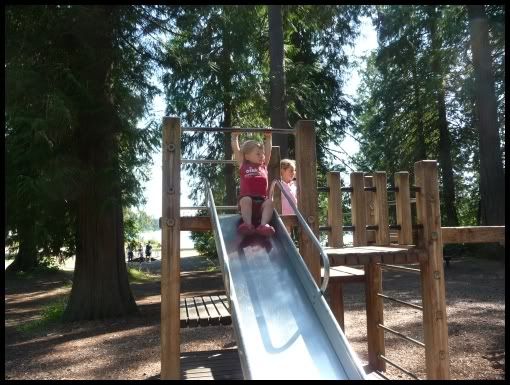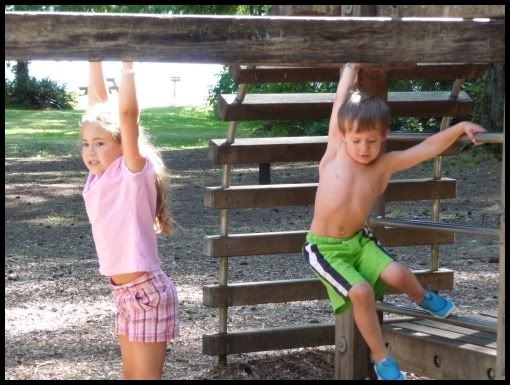 I truly think this "boat's" dog head should have been facing OUT instead of IN because it just poked Connor in the face the whole time and he couldn't resist just CHEWING on it!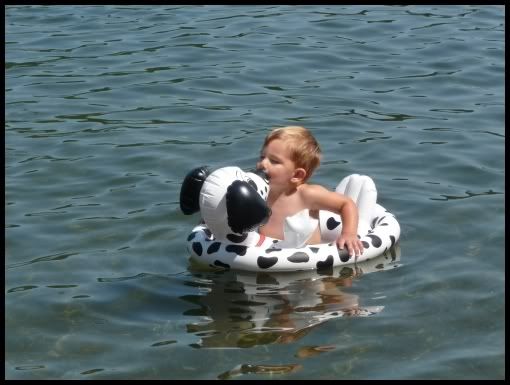 Jared was "napping, so you have to be quiet so you don't wake me up"
You can see just how much of Jared's hair got wet while he was "napping" and how much didn't! LOL But it's a sweet picture of all three kids
There is a tree near the swimming area that is actually 6 or so trees all joined together. There are several different kinds of trees and all their roots and trunks are intertwined at the bases, and one of the trees has this goofy branch that my brother and I would pretend was a horse when we were little. I had my kids test it out:
The water felt sooooooo good on that hot day. The kids barely wasted anytime before getting entirely wet (minus dunking under water, my kids DON'T do that!). I expected to need to enter the water slowly to get my body used to it, but it truly just felt great. We didn't spend quite as much time in the water as I expected, but with three non-swimmers, I guess there's only so much time you can wander around in the shallow end and float. LOL
The kids are already asking when they get to go back again!