Someone recently mentioned that I don't often talk about ME on my blog, so I figured I would do that today!
Here I am, in all my sweaty glory...It was somewhere around 90 degrees and muggy the day this was taken (and for western WA, that's a HOT day), and we'd been outside ALL DAY LONG (and then some) because of Dan's company summer party, followed immediately by our annual summer get-together with my dad's side of the family.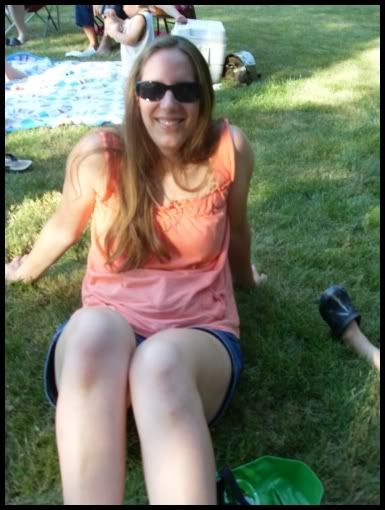 Some things you probably don't know about me yet:
1.) My one big regret from high school was not "doing" prom. I didn't go to Junior Prom, and although I went to Senior Prom, I didn't go get my hair and make-up done, I didn't get the princess dress, I went with the safe guy friend instead of asking the guy I really wanted to ask... If I HAD to do high school over again (I don't have any desire to go back, so this is a really truly an IF I HAD TO situation), I would save harder for the dress I really wanted, I would get my hair and make-up done, and work harder at building the courage to ask cutie boy Jake. NOT saying I didn't have a nice time, because I did, but I wish I'd really done it up.
2.) The toes next to my pinky toes are crooked. And don't ask for a picture because I'm not showing you my feet! All three of my kids have the same crooked little toes.
3.) I'm afraid of heights and am super cheapy about spending money, but I think I really do want to spend the $265 and go sky diving (with video and still pictures as proof). Just to say I've done it.
4.) It bothers me A LOT that I have a lot more blog posts about Emily and Connor than I do of Jared. And it's not some forgotten middle child syndrome at work either; it's the simple fact that Jared won't pose for pictures very often. So I end up taking pictures of the Diva Emily (major ham for the camera, in case you hadn't picked up on that), and Connor, who is happy to flash me a sweet little grin (or is up to no good and giving me all sorts of blog material). And I have this horrible fear that people come to my blog and notice on the blog category list that Jared's post numbers are far smaller and think I'm a terribly neglectful mother. sigh...
5.) I just found green crayon on the wall next to me, and I can't tell you how many weeks it's been since we've had crayons out, so either I've been VERY unobservant, or Connor's sneaky. Or it's a combo of the two! ha!
6.) I recently discovered that chocolate chip cookies made with ground flax seed instead of eggs are really good! (1 Tbsp flax seed plus 3 Tbsp water = 1 egg). Dan says they're acceptable. I thought they were really good!
7.) My digital camera broke a few months ago and I've been unable to make a decision on what to buy to replace it. I've been borrowing cameras (had my mom's for a few days, then had two of my MIL's at separate times, and have been using Emily's most recently)
8.) I never sent out thank you's for any of the kids' birthday parties, OR for the birthday luncheons we had with my mom's side of the family. It wasn't that I didn't want to or didn't think I should/needed to. It was that I felt obligated to have them be home-made since that's kind of what I've been known for with family and friends, and I got so overwhelmed in the end at the idea of having to make 30 plus cards when all was said and done, that I just didn't make any. And then a few weeks ago, the guilt started to eat away at me, so I ran out and bought some notecards and started filling them out for at least the family members. BUT THEN, I felt stupid that they'd be MONTHS late (birthdays were all May and June), so I set them aside. I also thought it would be nice for the kids to include their own words or pictures as well, and trying to wrangle three kids down to the table to sign a bunch of cards, on top of everything else (getting rear-ended and having PT, Em was finishing up school and having her Kinder grad ceremony, and then having her dance recital, and then we've been gearing up for the wedding, were out of town, I've been busy preparing for the start of preschool for Jared and 1st grade for Emily, etc), and it just hasn't happened. So, friends and family, we greatly appreciate your gifts and your thoughts on our birthdays, and I'm sorry I'm a bum and never got out thank you's...
9.) I have a little too much fun helping Emily earn Webkinz Cash by playing Webkinz arcade games (and I'm not the only one, Jodi and Cheryl are hooked, too!)
10.) I get a little long-winded sometimes (and NO, you did NOT already know that! ha!)