It's hard to believe that my BABY is already old enough to be in Kindergarten!!! Part of me wants to curl up and cry over how quickly this time has gone. The other part is excited to see what this next chapter of his life will bring.
Goofball wouldn't stop jumping around, so this is the only picture from our yard that didn't turn out blurry in one way or another
His school made the decision to break the first day into two half day sessions, so half the class went in the morning, and the other half went in the afternoon. Connor got placed in the afternoon group, so he and I got to spend one last morning together, had a nice lunch out, and THEN I took him to class.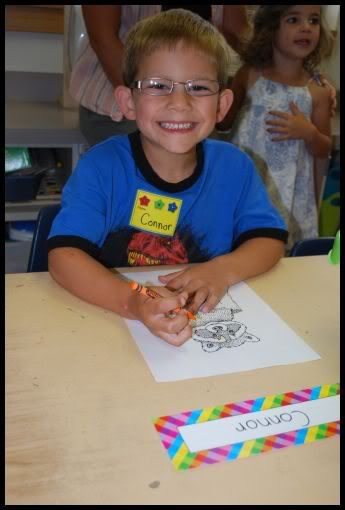 We LOVE his teacher!
I did get a little choked up on our way down the hallway toward his classroom, but I pulled myself together pretty quickly. It was hard to feel sad/emotional when my Mr. Connor was practically skipping down the hallway in excitement! He told me almost immediately, "You can leave now!" but I told him he was stuck with me until I snapped a few pictures first. *grin* After I took a couple, he said, "Okay, leave already!" That was my cue to HIT THE ROAD!
Connor got to ride the bus home with Emily and Jared! He's been DYING to get on the bus since he was only 15 months old and watched Emily head off to HER first days of Kindergarten...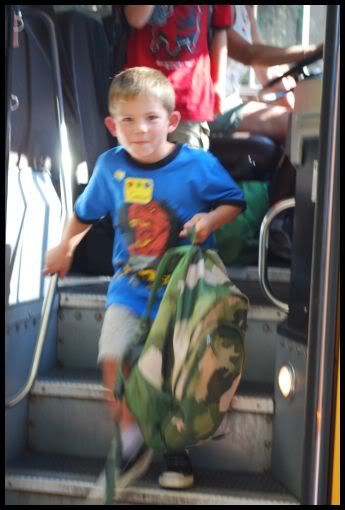 Big things are in store my for Little Man!!
I'm so glad you enjoyed your first day of school, Connor, and I hope you don't lose your enthusiasm any time soon. The world is yours for the taking! Believe in yourself, always try your best, and remember, mommy loves you no matter what. XOXO