We took advantage of the rain-free weekend and bundled up and headed out to Zoo Lights Saturday night! We arrived shortly after the opening time of 5pm, and people were already swarming the parking lot. I'm so thankful we were smart enough to arrive when we did, because it was a MAD HOUSE as we were trying to leave around 6:30pm. (Learned our lesson from the year before! *grin*)
My mom took this picture with her camera at the request of Connor, who thought a family picture in front of this tree would be nice: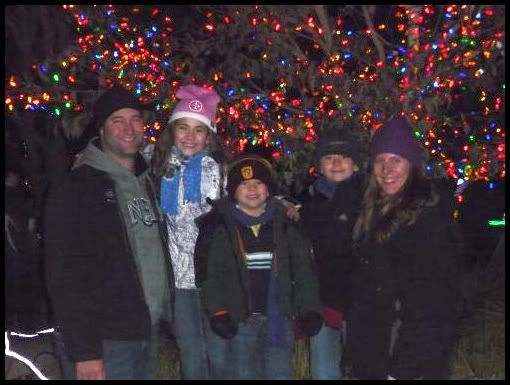 It was a COLD, but beautiful clear night, with a brightly shining half moon, and tons of Christmas lights for us to walk around and enjoy. Connor's favorites were the lights in shapes of tigers and monkeys (of which there were several); Jared's favorites were the lights in shapes of polar bears, and Emily liked the tigers, as well as a beautifully lit large pink/green tree.
I thought this years' newest display of a wolf howling at the moon was really neat!