Lots of you spent Mother's Day dressed nicely, sitting in church, or enjoying a nice brunch...
Emily and I? We spent Mother's Day in Seattle doing The Color Run!! Based on
this blog post
, my friend Brooke suggested we call our team Unicorn Success Club, which led to the making of shirts and unicorn horns. Our team of 8 ROCKED our shirts and horns.
Emily and I got up at 5:15am in order to be totally ready by 5:45am when our ride was scheduled to pick us up. We made the rounds to gather up the rest of our team members and arrived in Seattle around 7:15am, at which point we slathered up with sunscreen, got into our shirts and horns, and headed out onto the streets of Seattle to make the 7:45am bus to the starting area. Did we care that people walked a little faster past us on the streets, or avoided eye contact? No! Did we care that people stared/laughed/pointed? No! Because Unicorn Succes Club members are awesome like that... *grin*
Waiting for the bus, we got our first several rounds of compliments, and came across some fellow Color Run racers, who very kindly took our photo for us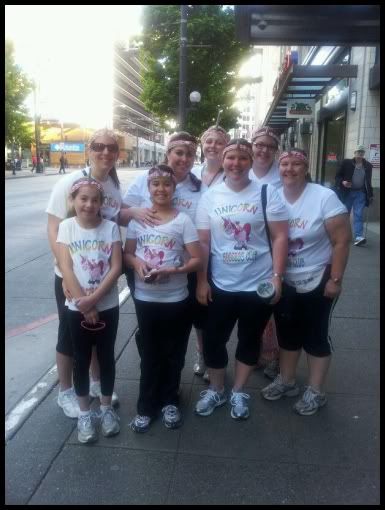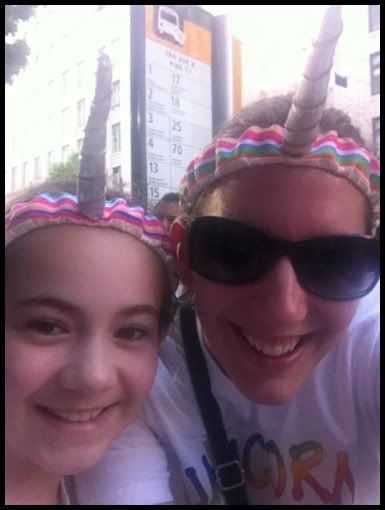 As Stephanie said, "Yes, we are that awesome!"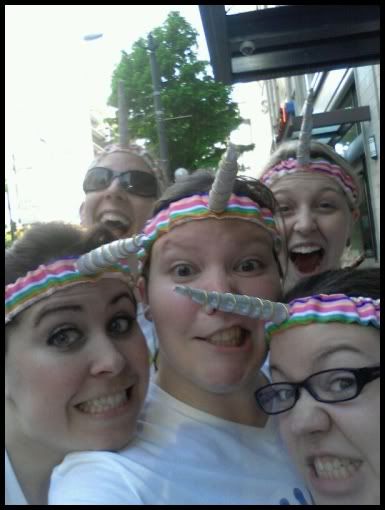 Can't be a unicorn without showing off your hooves, right?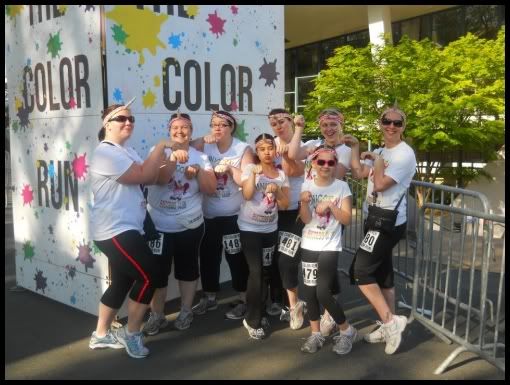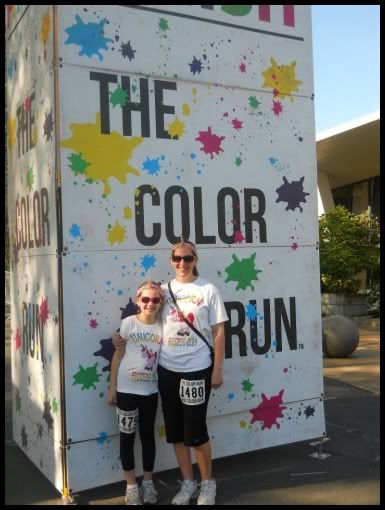 One last group photo before making our way to the starting line and joining the crowd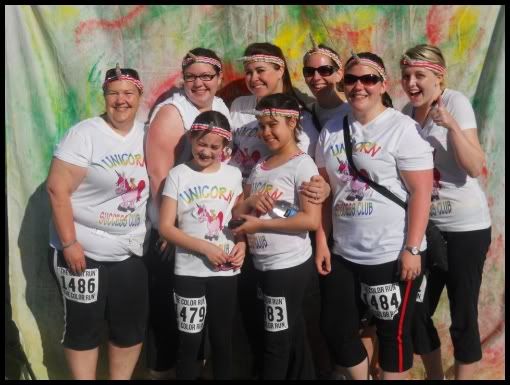 Look at all the people! (and there was tons of people back behind us as well!). We heard at one point there were 7,036 people in attendance.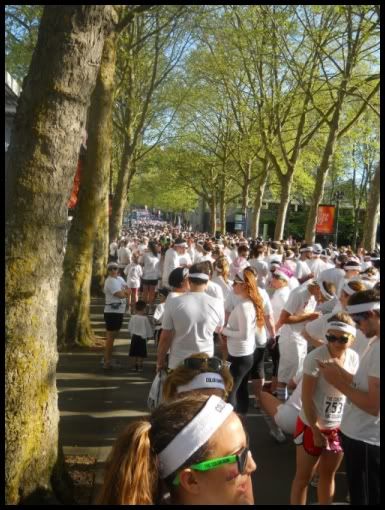 Just before the green color zone at the 3K mark, there was this sign. We still don't know what it meant, but we thought it was funny!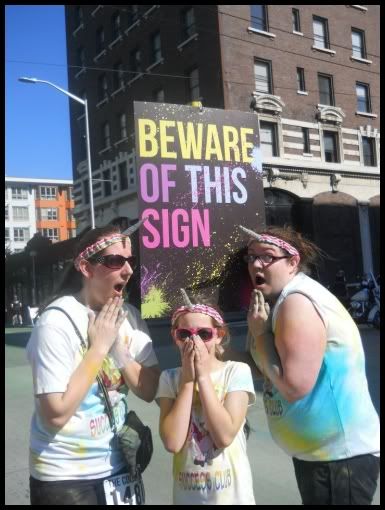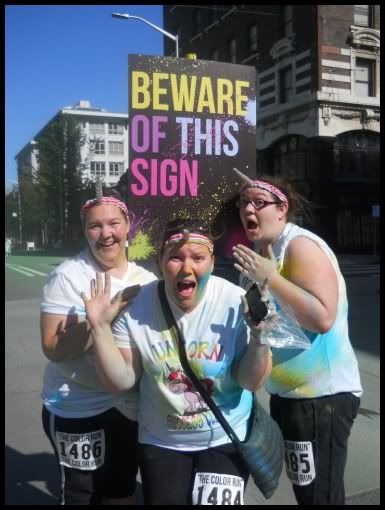 Just past the green color zone, we found this officer helping block off a side street and she agreed to pose with us (by the way, it was not us that got her uniform dirty! She was like that already!)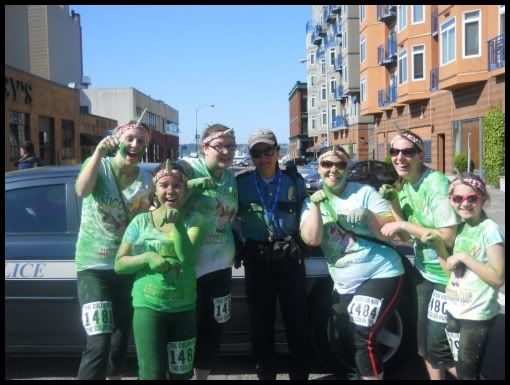 Just past the orange color zone at the 4K mark!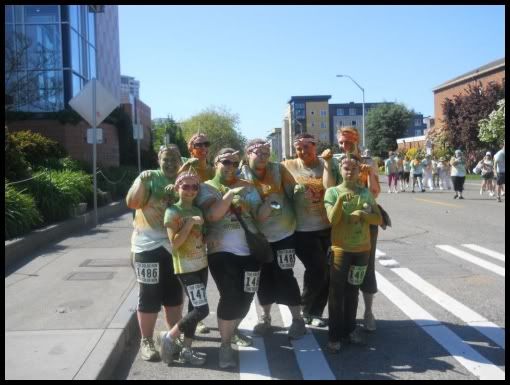 (plucked this picture off the photography order page, hence the watermark... But it's us crossing the finish line, arms linked and skipping/galloping)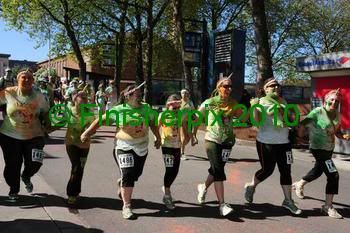 At the finish line (the 5K mark) was the color finale, where each runner opened and threw their bag of color.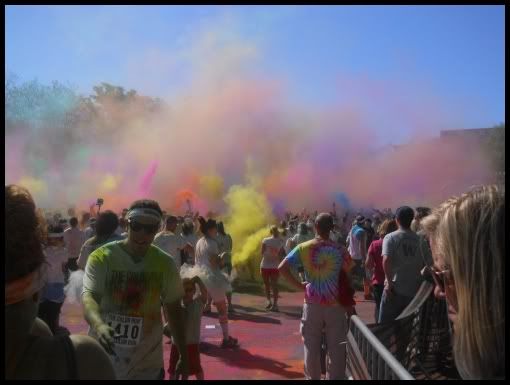 This picture was posted on The Color Run Facebook, and it's a view from above all the action!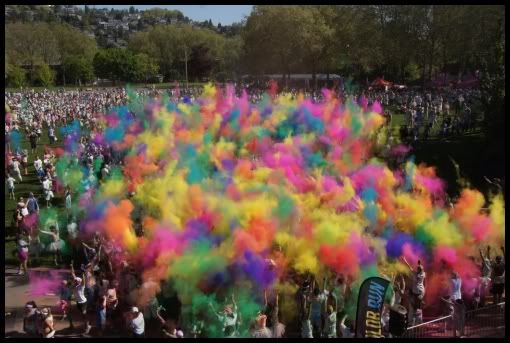 After the finale, we were significantly messier!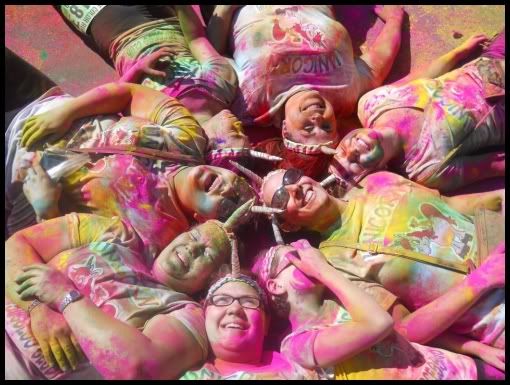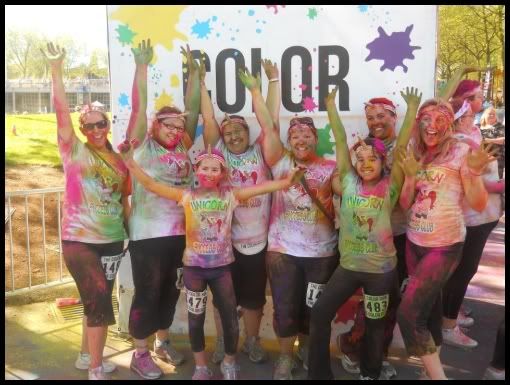 We kept laughing at our shadows with the horns sticking up! LOL!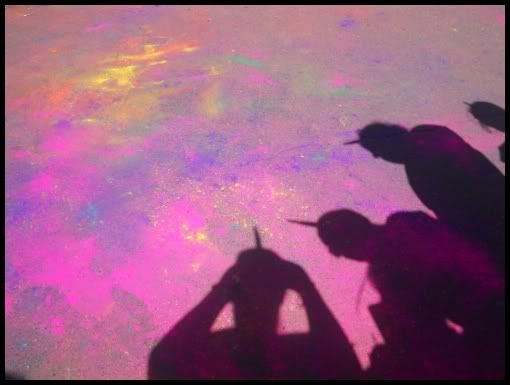 More messy photos!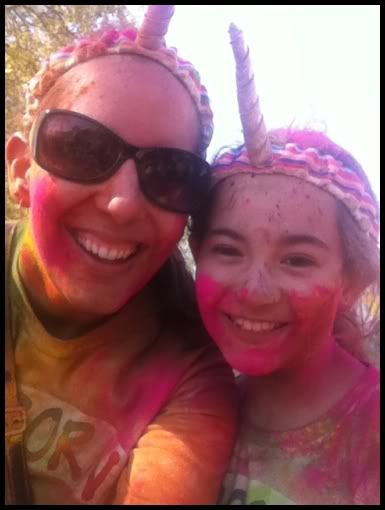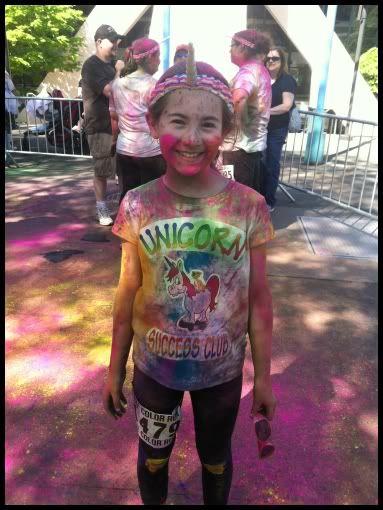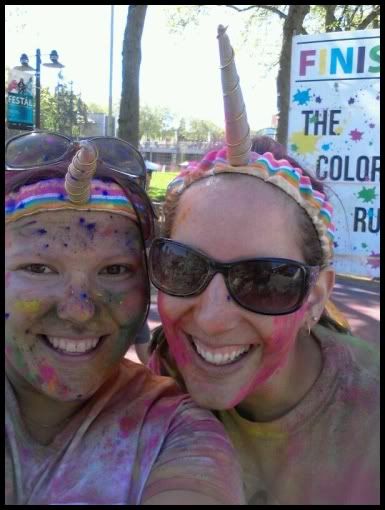 I still need to figure out cleaning our shoes!!!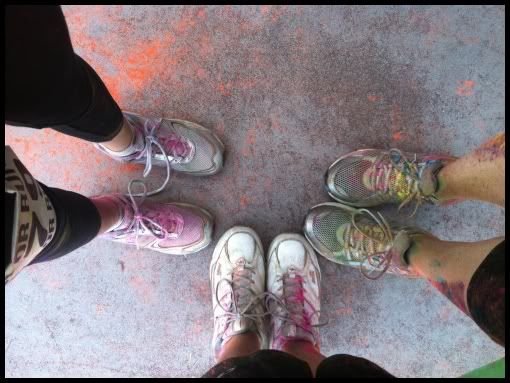 See the smiley faces she drew in the dust on her lenses?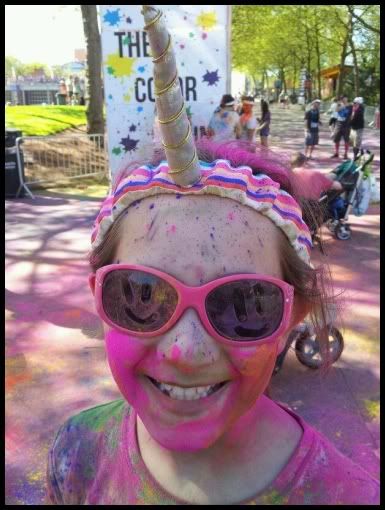 We ended up over by the Fuze stand, where they gave us free drinks and asked us to pose for a picture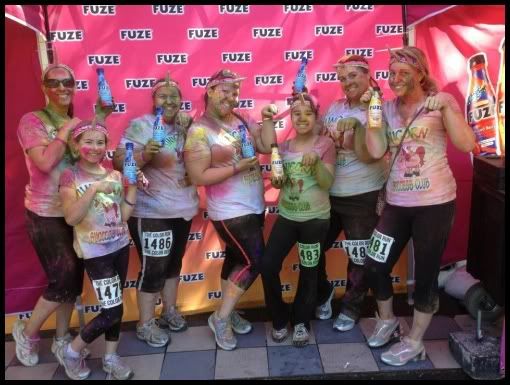 Then we got to make spin art!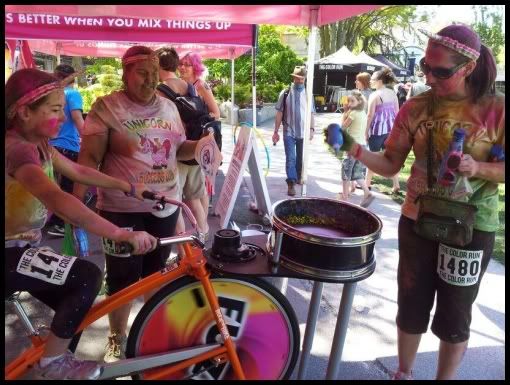 Em and I attempted to get our picture with the Space Needle behind us, but the sun is a bit bright!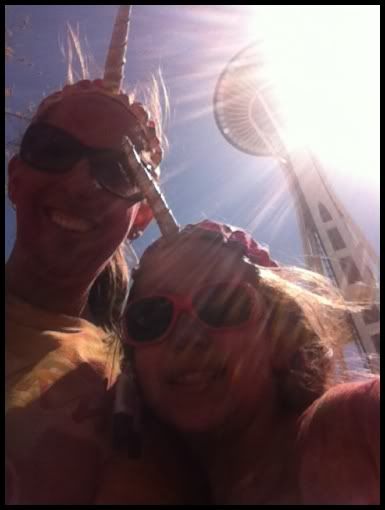 Em's hair after we got home: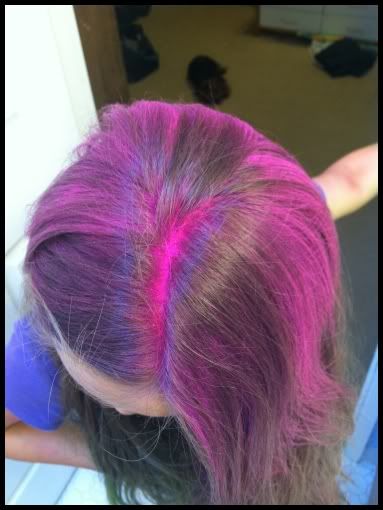 Can you see the blue/green ends, along with the BRIGHT pink top? In case you were wondering, it all washed out perfectly fine (much to her dismay; she was hoping the pink would last a few days!)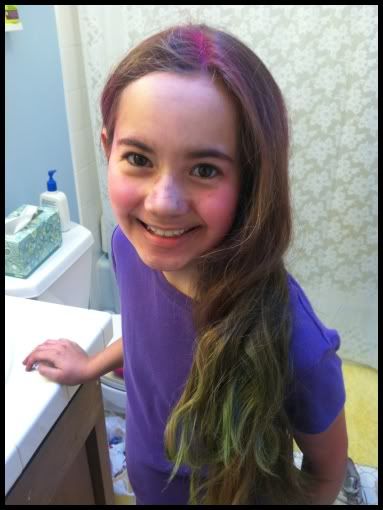 The color even went through her shoes AND her socks. Her right foot (left of the picture) was pink, and her left foot was yellow!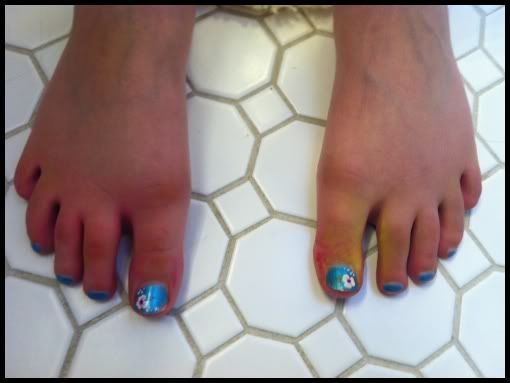 We had a FANTASTIC time, and are already making plans for next year!!!!