Dan and his dad hooked up the Airstream and took off for Nevada for the Burning Man (festival?) last week. They were gone Sunday morning through Friday evening. Dan said it was so much bigger than he was expecting. He was expecting the large groups of people and the size of the "camping" areas, but wasn't expecting how wide-spread and elaborate all the artwork would be. Here are some of the pictures he took (and he said he barely made a dent in viewing everything!)
He said including the elaborate outer walls, this structure was probably 200ft X 200ft. I'm amazed at the intricate detail put into something that was set up for one week, and then taken back down again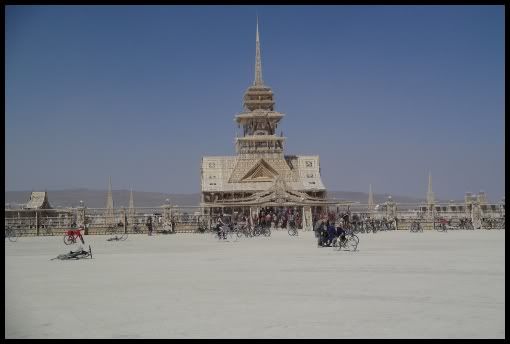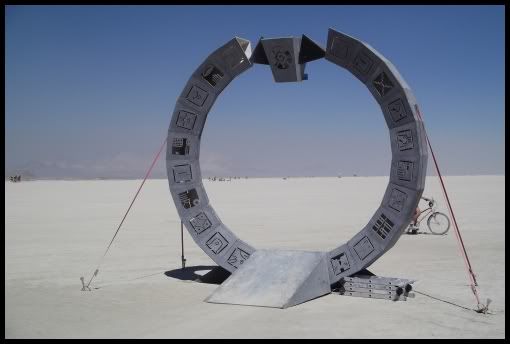 This thing actually walked around!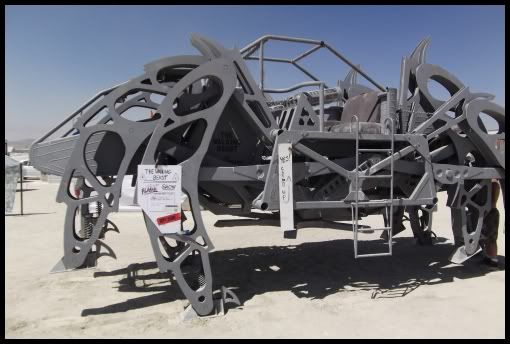 Fitting the "Burning Man" theme, most things have some sort of flames incorporated (mostly saved for at night). This moved around and shot flames out the tail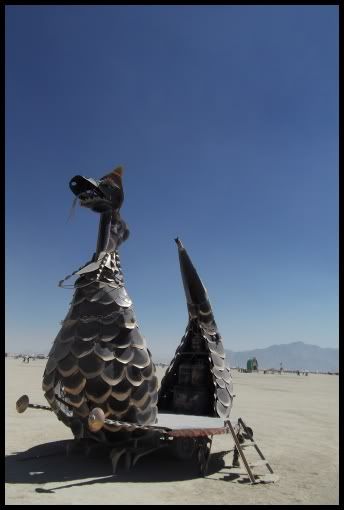 Giant hamster wheel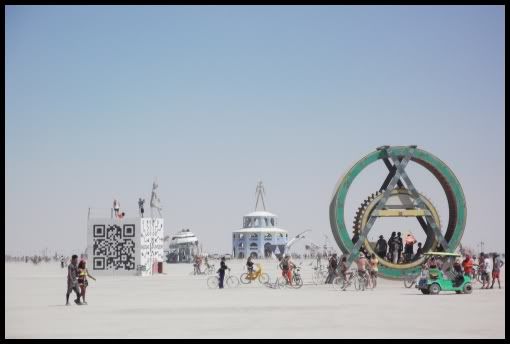 Party bus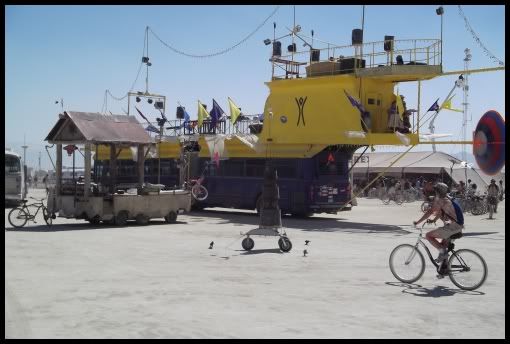 kitty car (the tame version of something else he saw there!!)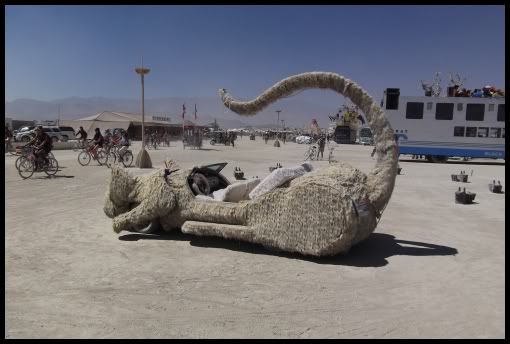 This whole thing spun around in circles, and then the two large stones spun separately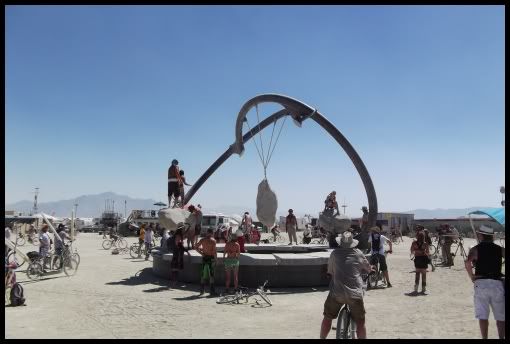 You could get a ride in this, and flames shot out from all eight tentacles, to the beat of the music they were playing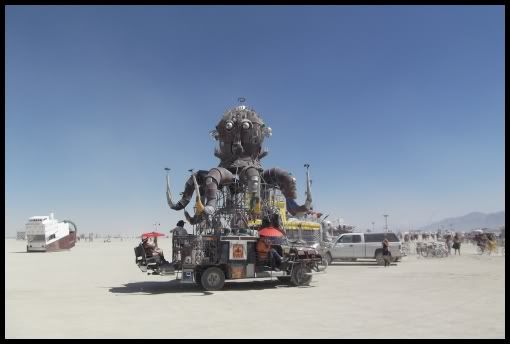 "sunken" ship, complete with long dock (you could climb through it and everything)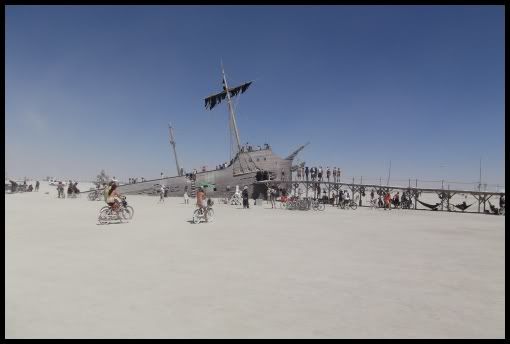 Giant dinosaur that drove around. I was amazed by all the detailing (all the strips of tires for the muscles, etc)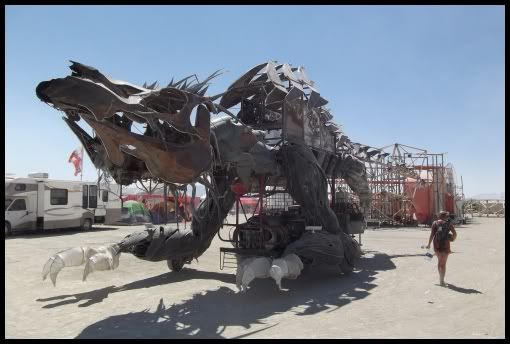 Stump and roots carved into this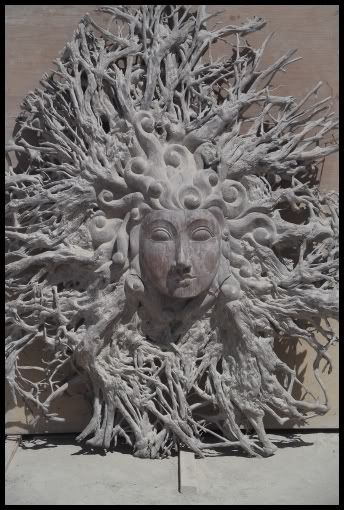 Lots and lots and LOTS of dust. He said it came through this bad from time to time, but wasn't horrible for the most part. He did say the dirt was so fine and that whatever the chemical balance was, it was extremely harsh. Just walking/biking through it for a day and his feet were bright red and peeling. He said there were lots of smart people wearing boots. Something to keep in mind if he ever goes again!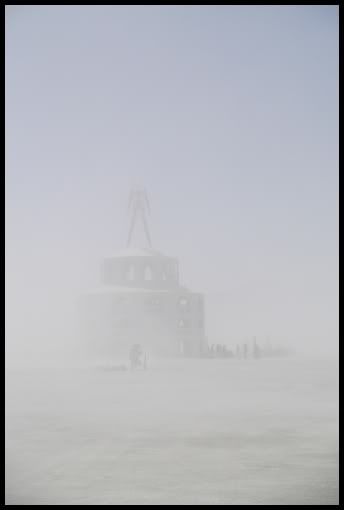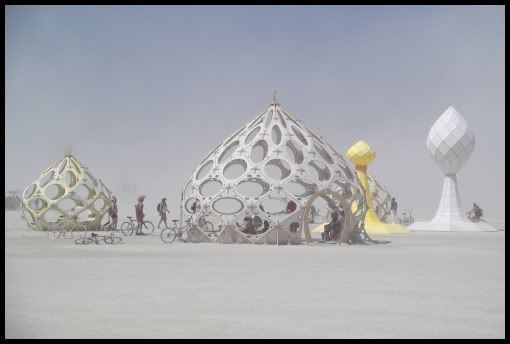 Large buildings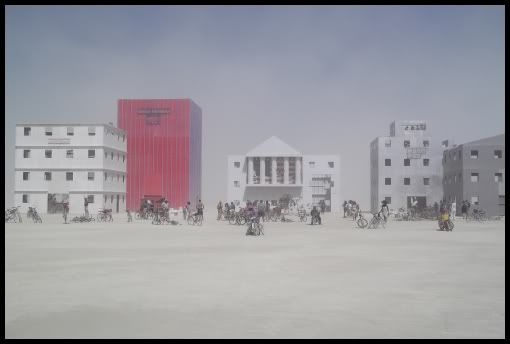 Burning Man structure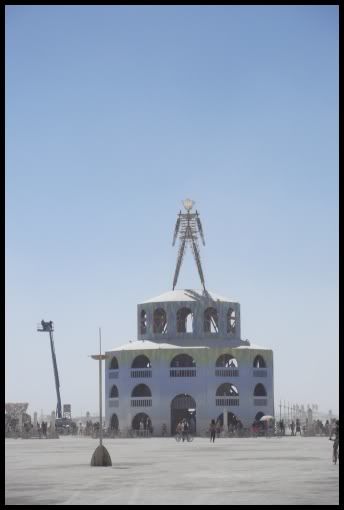 Dan said everyone was super friendly and welcoming. There was pretty much something for everyone there (yoga in the mornings, to partying at night, and everything in between). He wished there'd been more time to see all the artwork, but that just in exploring all the different camps for all the groups, seeing the sights within the main "city", and the little bit of artwork viewing in the outer areas he did, he walked and rode his bike more miles than he could ever hope to keep track of. He said you'd almost need three weeks to try and see everything there was to see. Each group within the "city" hosted different events throughout the day, and he said that at any given hour, 24 hours a day, there was at least 40 different events (lectures, displays, etc). It was impossible to try and see it all. Like I mentioned before, he was expecting the "city" to be big, and for there to be lots of partying and whatnot, but was very unprepared for how huge and elaborate a lot of the stuff was.