We bought tickets for our family to see Trans-Siberian Orchesta at Key Arena this year. It was our first full-family concert, and the kids were REALLY excited to get to go. The concert wasn't until 3pm, but we headed up earlier in the day with plans to spend the morning at the Seattle Science Center.
While we were having lunch in Center House, we ended up at a table right next to the guy doing characatures of people, and we were very impressed with how much the drawings still resembled the actual person. We've seen plenty that look NOTHING like the person. The kids loved watching the guy draw while they were eating, so we decided to have drawings of the kids done as well. I don't really see Emily in hers, but I totally see the boys in theirs!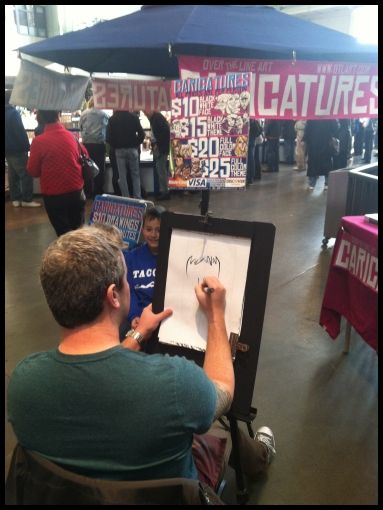 The drawings were bigger than my scanner screen so the signature at the bottom is cut off, and some of Em's hair
(love the missing front teeth!)
After paying for the drawings, we went straight over to Key Arena and found our seats, WAY up in the nosebleed section!
There were TONS of lazers, and pyrotechnics, etc during the show. Dan said it was the best visual effects for any concert he's ever attended (and he's attended A LOT).
This picture doesn't even come close to showing it off!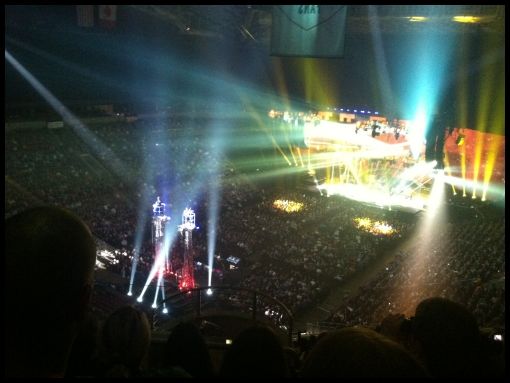 There were some parts that were a little too slow and "foreign" (not songs we knew) for our tastes, but for the most part, we LOVED the concert and had a great time. Connor must have said at least 20 times "THIS IS AWESOME!!!!!!!", while he rocked out to the music and the lights.
The concert lasted 2.5 hours (without an opening band!) and it was dark when we came out. The Space Needle looked really neat all lit up, with the light tree on top
We tried to take a self-shot family photo, which didn't work out very well... LOL