Back in November, I got an order for baby boy and baby girl zebra hats for boy/girl twins due late February or early March of 2013. Once the hats were completed, the lady ordering them asked me to do a pink/blue combo one for the mommy-to-be. I finished the orders awhile ago, but haven't coordinated getting delivering them yet.
I actually meant to post this picture yesterday, but I messed up the "schedule" feature and it didn't post.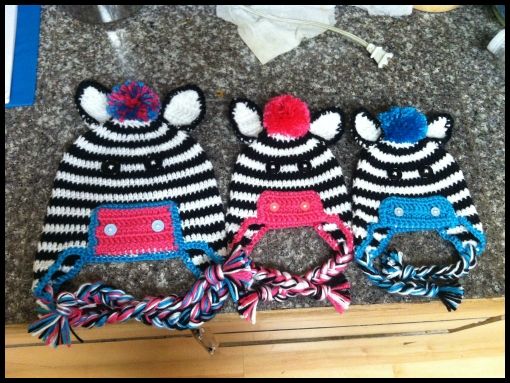 Later in the day yesterday afternoon, as I was realizing my post hadn't posted, I also found out that the babies had been born that day--at only 26 weeks gestation. The girl weighed 1lb 4oz and the boy weighed 1lb 8oz. Please keep the two babies in your thoughts!