Maria
tagged me for a purse meme, so here I go...
My purse was given to me by my friend Beth, who said it was far too small for her own use any longer, and it "bothered" her that all I had was little travel-style purse (basically big enough for a checkbook, an ID and maybe a few small items like tampons and a chapstick or something). I never NEEDED more space, but now that I HAVE more space, I find that I'm USING IT. LOL!
Here it is from the front: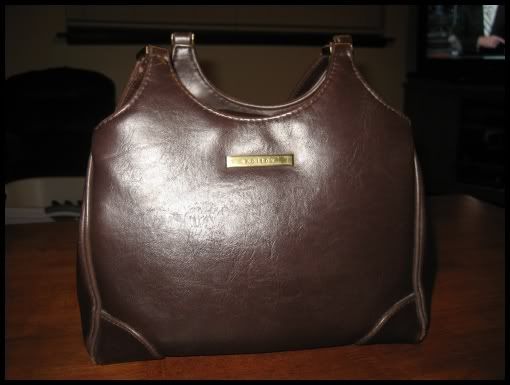 Here it is from the back: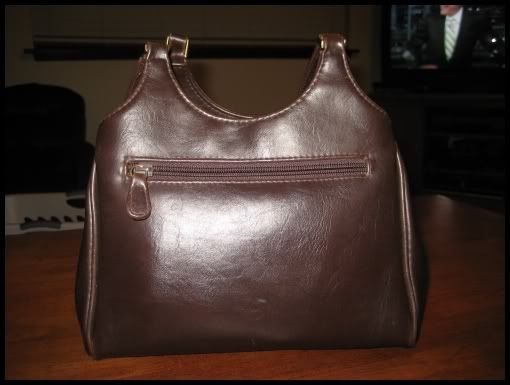 Here's the top-open view: (my camera is generally in that other little pocket you see EMPTY in the picture)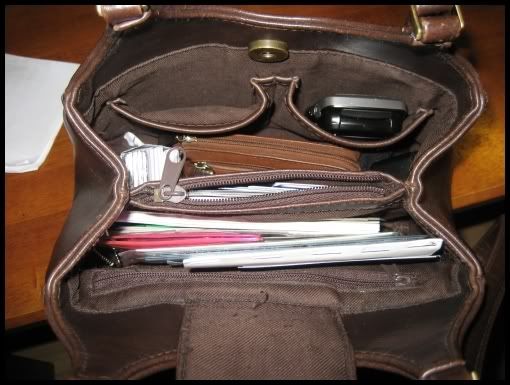 In the little zippered pocket on the backside, I have some chapstick, a compact powder, my allergy eye drops, some OTC pain meds in a baggy from who-knows-how-long-ago, and some coupons for the JCPenney Portrait Studio, and apparently, that's also where I stashed my birth stone ring the day I showed up at Jared Galleria to pick up my Mother's Ring.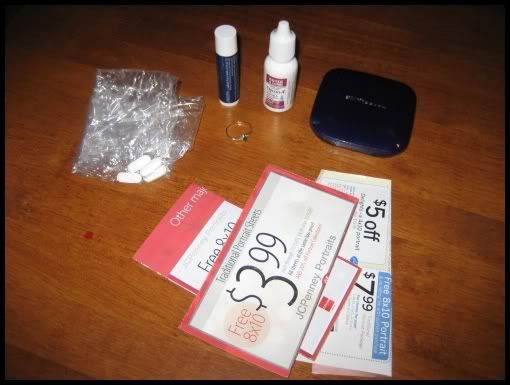 In the front section, I have my cell phone, my new bluetooth (which I only got because my friend Liz could get them at a can't-pass-it-up price, but I hardly ever use my cell phone, so I don't really NEED the bluetooth, but you just NEVER KNOW), my change purse, some cough drops, a paper with Em's classroom phone number on it, as well as the phone number for Transportation in case there's a problem involving the school bus (because I've been too lazy to program those numbers into my phone), a pack of gum, a scrunchy, a heart-shaped chocolate, and a lollipop.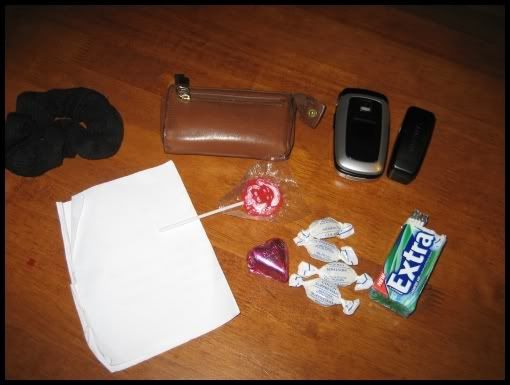 Did I mention it's a Santa lollipop? Think it's been in there for awhile?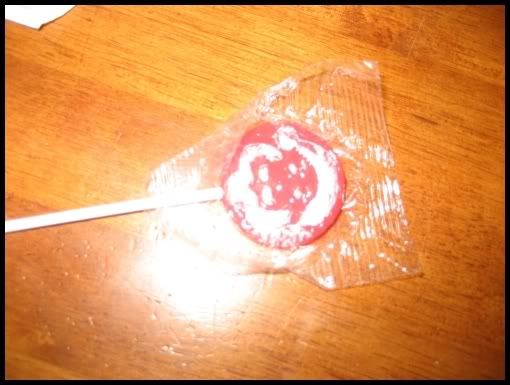 In the back section, I have my checkbook, a little pink calculator (it was $1 at Target one day!), the kids' immunization records (because otherwise I forget to show up with the records for appts if they aren't already with me in my purse!), two pens, and a little book Emily made that I like to pull out and brag on from time to time (it reads from back to front, and she has the "front" labled "begining", and the end labled "the end").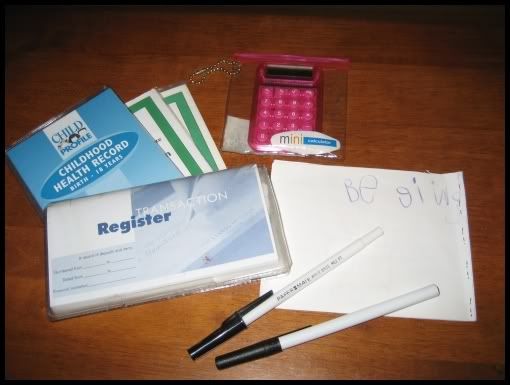 In the little middle zipper section, I have some credit cards (not pictured) and some somewhat outdated pictures of the kids, and a Starbucks gift card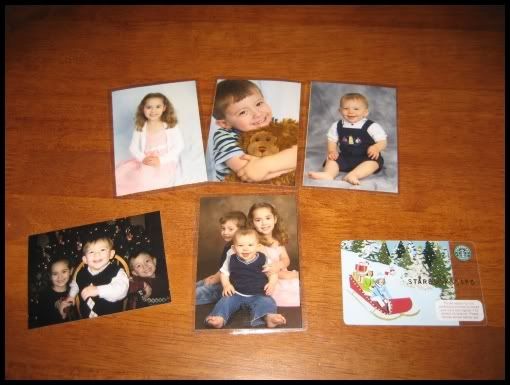 And that's my purse! I now tag
Kristina
,
Betsy
,
Cattigan
,
Kaci
,
Jen
,
Shan
,
Valarie
, and
Chanin