Jare-bear slipped on the wet grass outside at preschool today and smacked his face on the wooden boat on the way down. Now he's sporting a lovely welted bruise. From what I hear, he took it like a champ and moved on, refusing ice or parental attention. The little girls in class jumped to attention and held his hand and helped him around the playground for awhile afterwards and "ladies man" Jared milked it for all he could. Apparently it was quite the show (of course, it wasn't my day to work in the classroom so I missed it). When I arrived at the end of class to pick him up, in true Jared fashion (those of you that know him well will be nodding and laughing in agreement), he came running over to me saying, "In case I'm ever a pirate, I already have a scratch!"
(these pictures do NOT do justice to the size and color of the injury, I might add)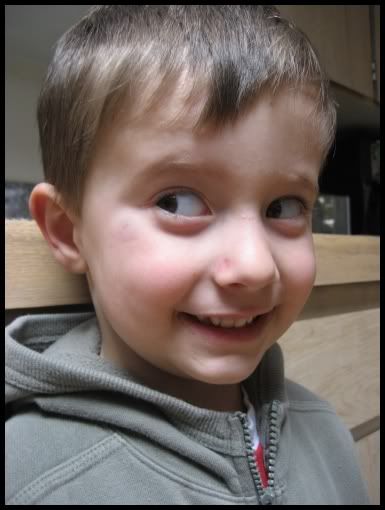 It's nice knowing he's already got plans of working it to his advantage (you know, in case he's ever a pirate or something!!).