Bunkbeds were ordered Monday for the boys. Apparently they were ordered ALMOST just in time...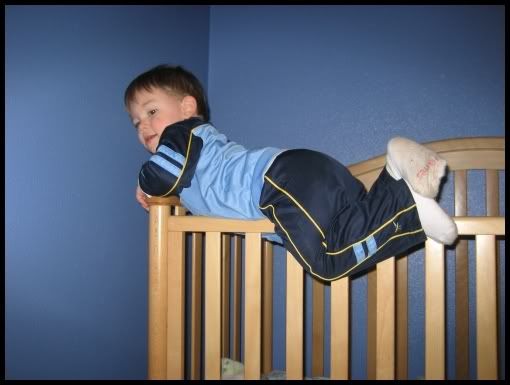 Someone decided they're a little too big for a crib!
Imagine my surprise a half hour after I'd put him down for a nap and was talking to my neighbor on the phone when Mr. Man comes traipsing out of his room, with the proudest little face you ever saw. And wasn't he ever fit to be tied when I promptly stuck him right back in and told him "YOU LAY DOWN!". And wasn't I surprised when I'd barely turned my back to leave when I heard a giant thud and he was running for the door again. So far he's unwilling to go for a third escape. Now I just hear "hep! hep!" (help, help) while he balances along the top edge. PUNK!