If you don't follow "Confessions of a Pioneer Woman" and haven't seen her AMAZINGLY delicious looking cinnamon roll recipe, and you don't have a friend
Jen
who's followed the recipe several times and RAVED about the "PW Rolls" (as we call them) and nudged you into making them yourself, then let me be the person to introduce you to "PW Rolls":
PW ROLLS
I'll warn you the recipe makes A LOT of PW Rolls; they're meant to share with friends and family. They use a lot of ingredients. They make a major mess. They take a lot of time. THEY ARE SOOOOOOOOOOO WORTH IT!!!! (I'm mad at myself for fighting to urge to make them for so long!)
(I made SEVEN pans of cinnamon rolls, and only thought to take a picture of my hard-work after I'd given a pan to my parents)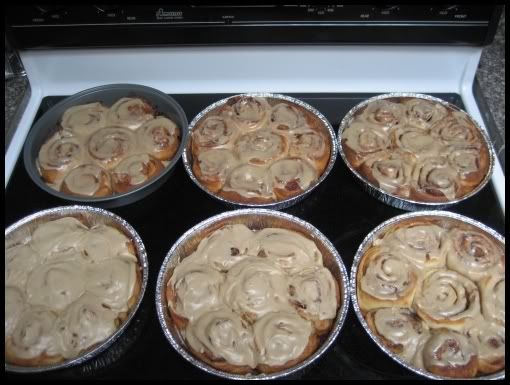 Did I mention these are soooooooooooooooooooooo worth it??? YOU MUST MAKE THESE. NOW!!!
Go forth and purchase supplies, clear your calendar for the day, clean your kitchen for an hour afterwards, EAT EAT EAT and realize you've died and gone to heaven. YES, they're THAT good.