Emily Grace can now ride a two-wheeler bike!! She's fought us for YEARS and it was to the point that she's ridiculously big for her current bike, but her daddy wouldn't buy her a new one until she'd learned to ride the current one, and had shown she'd be willing to use the new one. SO, we dragged her LOUDLY reluctant self outside yesterday and got her on the bike and told her she had two choices: pedal, or fall off. She chose pedal, and she picked it up rather quickly! Within an hour she was riding circles in the driveway. She still needs some work getting started herself, and going for longer distances, but she's got the basic idea and the rest will come quickly from this point, I'm sure. She's nothing but GIDDY that she can actually ride her bike now. Dan and I went out yesterday afternoon while she was off with a friend and bought her a new bike that's an appropriate size for her and she's doing great!
This is a picture from when she was getting the hang of it on her old, tiny bike: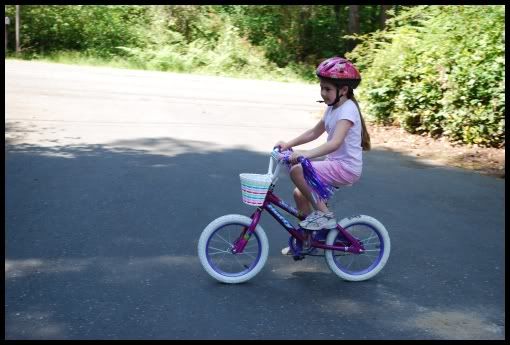 And for the other big news? Jared lost his first tooth! It's unfortunate that it's due to traumatic injury a few months ago, and the new one won't be ready for AT LEAST a year, but he still got to experience the tooth being wiggly and then pulling it out. One bite to his sandwich yesterday had the tooth dangling by practically NOTHING and it just fell right into my hand went I touched it. He's got this darling little lisp now and suddenly looks much more grown up...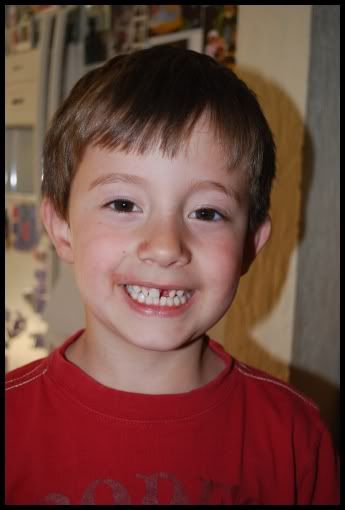 He was pretty happy to show it off to friends and family and neighbors who came to dinner at my IL's with us.