On the drive down to the coast, we saw this ENORMOUS American flag. I wish I would have had more time to line up a shot to show a size comparison, but as you're driving down the road, you take what you can get. It was HUGE!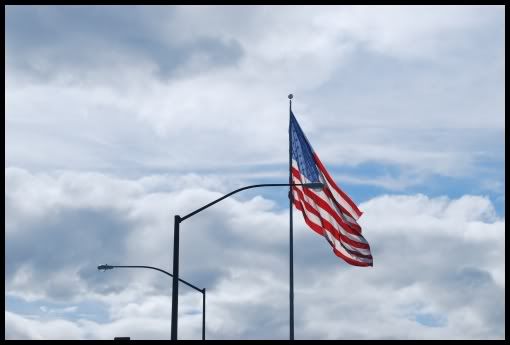 We spent the first part of the trip listening to the music on Dan's ipod. He's got a "kids" playlist that we listen to, which is basically every song on his ipod that doesn't have swear words of any kind (which means we listen to a lot of Beatles, basically! LOL). One particularly rock-ish song came on and Jared grabbed up his ball yo-yo (that winds itself back up again so you LOOK like you can yo-yo) and hooked it up to the hook in the ceiling of the van, then pulled the ball part down low like a microphone and started rocking out, singing along with the song. It was soooooooo funny! He had his head banging and everything. So cute!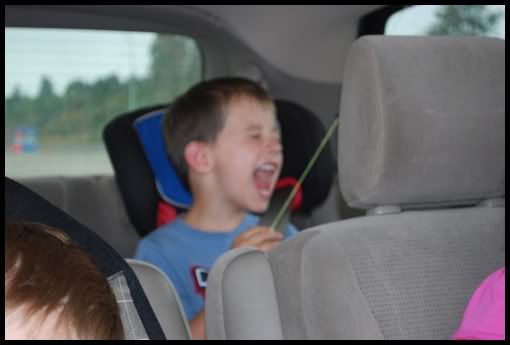 We arrived at about 6:30pm, and unloaded our stuff. This is the beach house we rented (that topmost section is the loft bedroom that Dan and I slept in, the middle section windows you see are the kitchen and livingroom, and then there was also another bedroom, and a bathroom. The lower floor windows you see are the bunk room, which had TWO bunk beds, a couch, and a TV, plus plenty of floor space for kids to play; also on the lower floor was yet another bedroom, a bathroom, and a huge laundryroom)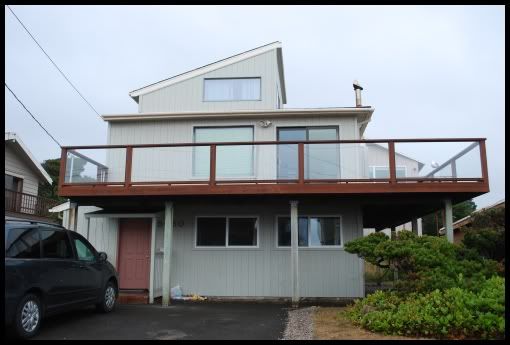 After we unpacked, we had dinner, and then decided that although it was getting dark, we wanted to go down and "say hello" to the beach quickly before bed. We walked down the path and wandered in the sand a bit. Then Dan wanted to go check out a rock that was right on the edge of the water. One extra big wave came through and suddenly all three kids are wet from the knees down, while fully clothed. Next thing I know, Jared's sitting in the water up to his waist, Connor's splashing around like crazy, and Em's wet up to mid-thigh. LOL All in a matter of seconds!!! At that point, we figured they may as well just go for it, so we stayed down for another half hour, letting them splash and go crazy in their clothes, in the darkening night.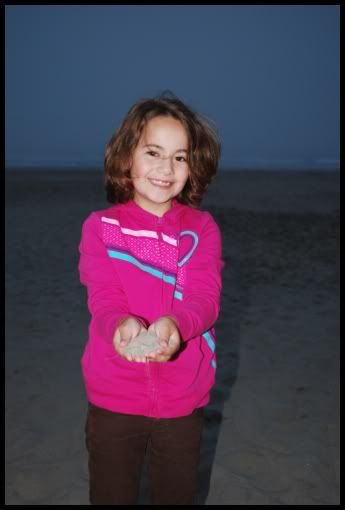 (this was just as we were arriving down at the beach, but he made me laugh INSISTING on having his sunglasses, even though it was past sunset AND it was an extremely overcast day)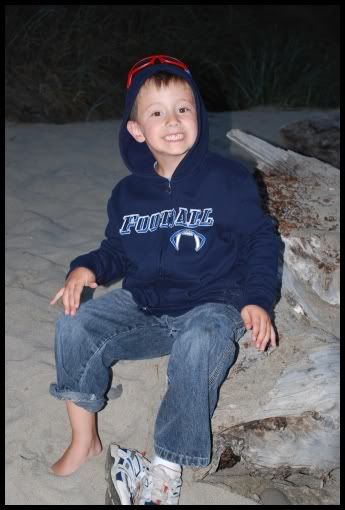 Now you can see him SOAKED up to about his armpits...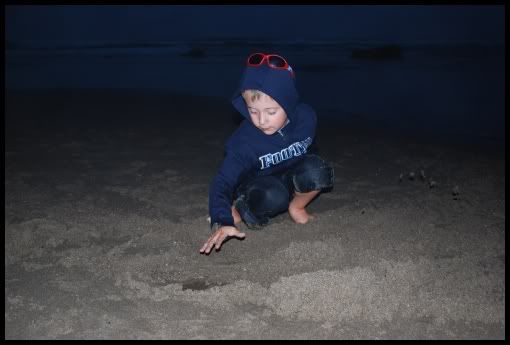 This one was before he got TOO wet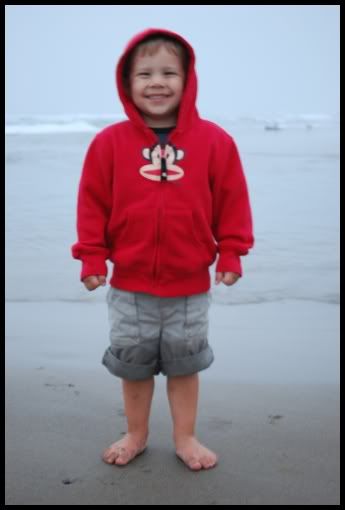 Connor's shorts were so heavy with water they kept falling down, so he'd walk around pulling them back up every few steps. LOL!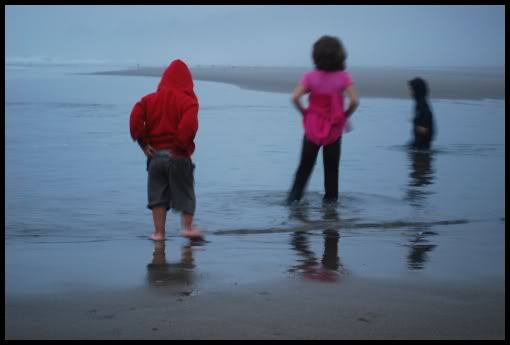 I was trying to self-take a family photo, but Jared refused to scrunch in close, and Connor only willingly stood there for one picture, and as you can see, it was a failed attempt. LOL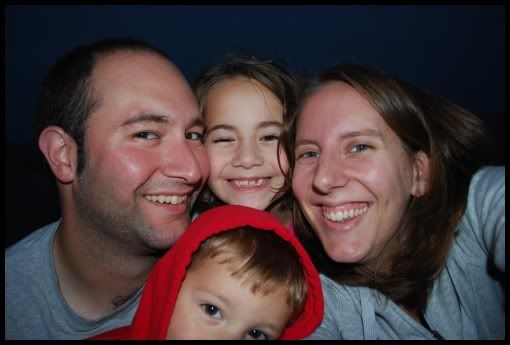 And I had originally had the camera turned sideways, then at the last minute changed my mind to orient it tallwise instead, and I somehow managed to take this picture! Crazy! I tried desperately to recreate it "just for fun", but I never could.