I tested out making some cake pops last week with Emily, and we had so much fun! The possibilities are truly endless. While I will admit to it all being a labor intensive project, we were enjoying ourselves, and I'm looking forward to making a new batch later this week to set out at Emily's birthday party. They've been a huge hit so far with everyone who's tried them (minus my mother), and I've gotten some really cute ideas online for future attempts!!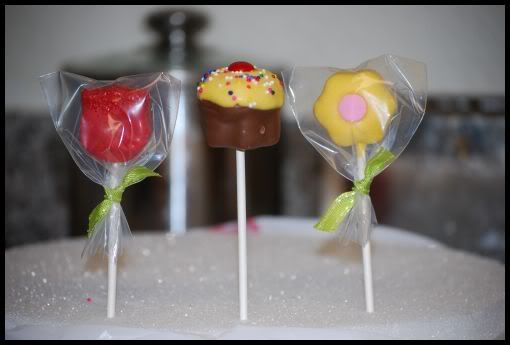 We also made blue butterflies, but I guess I never got around to photographing them!
The bulk of the batch of cake pops went out to the kids' teachers for Teacher Appreciation Week, but we also passed some out to guests who came by, and I took some to set at each place setting at the birthay luncheon my aunt hosted for Emily, myself, my cousin Haylee, and her son, Russell.
I think the ones I'm going to do for Emily will be cake BALLS instead of cake POPS. I'll use chocolate cake inside, dipped in white chocolate, and topped with bright pink sugar sprinkles on top, each set into a tiny cupcake liner (we have tiny yellow liners with bright colored flowers on them). I think they'll be pretty cute. I'm debating doing some lamb-shaped ones in honor of Em's favorite stuffed lamb, but since none of us like black licorice, I have to come up with something else for the face and legs (and with less than a week until the party, I think I'll just attempt the lambs at another date, but seriously, aren't these
lambs
adorable??? I even found some TINY white nonpareils to combat the problem of them being too crunchy as mentioned in the recipe).
I suppose we'll see what I end up doing!!
If you're interested in making cake balls/pops of your own, simply bake a 9X13 sized cake of your choice of flavor. Let cool completely. Once cooled, break apart into fine crumbs in a large bowl, then mix with half a can of frosting of your choice (the recipe I used online called for the whole can, and while it does add a bit more sweetness to the finished result, it also makes the "dough" a lot harder to work with, because it needs to keep being put back into the fridge or freezer to chill--using half a can of frosting leaves the dough stiff enough that it doesn't need to be chilled repeatedly throughout the process of forming the desired shape, AND I personally think they come out quite sweet as it is). If you think the "dough" needs it, freeze for 15 minutes or so, then start forming your shapes. I used tiny cookie cutters (1.25 inch wide or so??), and smooshed the dough into the shape until it filled completely, then carefully pushed it loose, and set aside on wax paper.
Once you have all the dough shaped as you want, start dipping into your melted chocolate (I used the melting chocolates from the baking section at JoAnn Fabrics and they worked fabulously). If you're making cake POPS, instert the sticks before dipping, and make sure the chocolate partially covers the stick where it inserts into the shape, or the stick will easily fall out.
I have yet to make cake BALLS, but I heard using a wooden skewer iserted into each ball long enough to dip works really well. I guess I'll find out later this week!