Emily had her spa themed birthday party over the weekend. I think I earned some MAJOR mommy points on this one!!
As soon as guests started arriving, the girls jumped right into some good ol' karaoke fun (belting it out to Taylor Swift, of course!):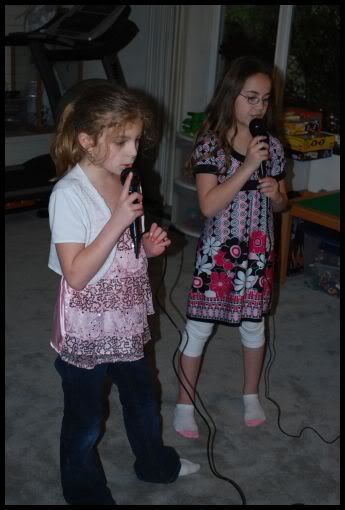 After everyone arrived (five girls, including Emily Grace), I got them started decorating their own giant cupcake. HOLY HECK, did those girls go crazy with the sprinkles!

Emily Grace was very dainty and precise with where her sprinkles went, and my niece, Ali, stayed very minimal with HER sprinkles, but the other three went nuts.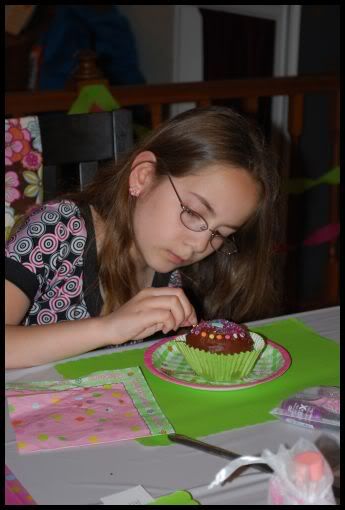 LOL We were only about 30 minutes into the party and already my house was LOUD with giggles and major chatter. Did I mention it was LOUD??
Once the giant cupcakes were decorated, we loaded into the van and drove to my friend Nikki's house, who runs a spa out of her home. She gave the girls "kid" facials, which included an oatmeal/yogurt/honey mask (which the girls each got to mix up themselves before it was applied)
Nikki had her TV turned to a radio channel geared to tweens/teens, so they were having fun listening to music and singing while they waited. ALSO, I'd purchased white flip flops from Old Navy, and 9 different colors of ribbon (cut into four-ish inch strips), so the girls could knot the ribbon onto the flip flop straps as an additional way to kill time while they waited their turn for a facial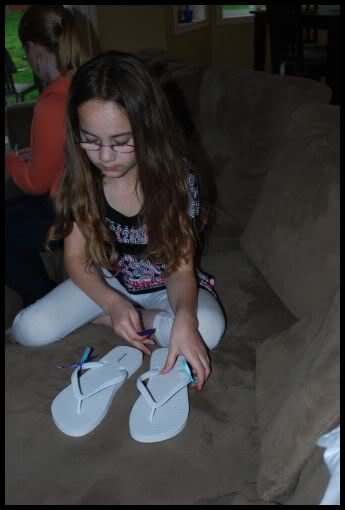 How cute are these??? Emily wore them out and about over the weekend and got TONS of compliments!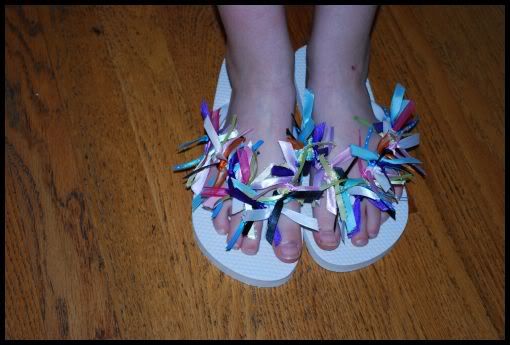 After each girl got a facial, one of Nikki's good friends applied some make-up

Time for a group shot or two!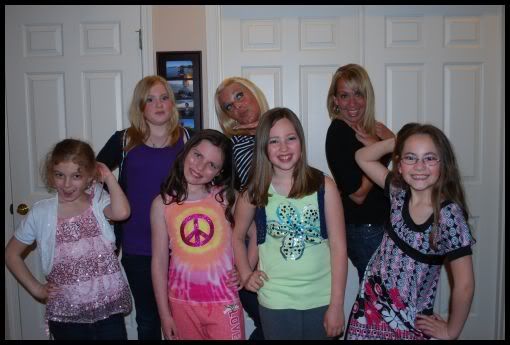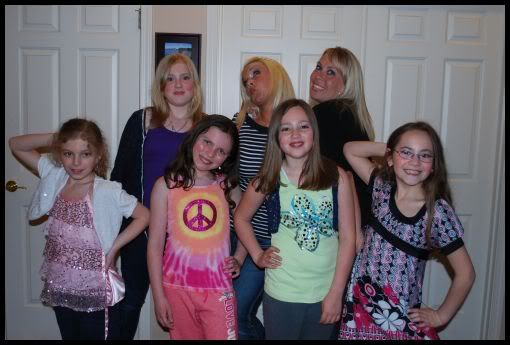 After the facials were over and make-up was applied (and flip flops decorated!), we headed home for a pizza dinner, then launched into movie #1 (Elle, A Modern Day Fairytail--or something along those lines... The girls loved it; I thought it was TERRIBLE, and I'm usually pretty up for a cheesy girly movie!! LOL) while they soaked their feet, did a scrub, and then a moisturize treatment.
Leave it to lame me to have forgotten to take any pictures of the foot soak portion!!!
Once their feet were pampered, they sat down to paint their toenails with a whole kit (which was also their goody bag... Filled with a new bottle of polish, a small bottle of polish remover, a new emery board, tiny nail clippers, and toe separaters). Ali didn't want to paint her nails at this point, which is why she isn't pictured.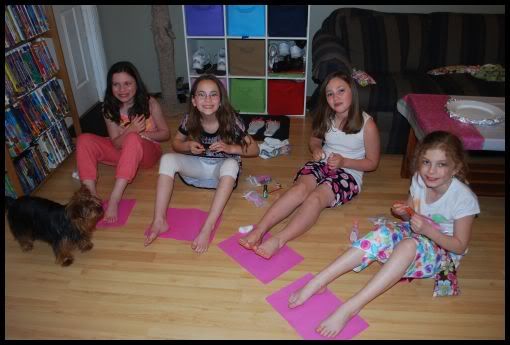 After movie #1 was over, we headed back to the table to sing Happy Birthday to Emily Grace, and to eat the giant cupcakes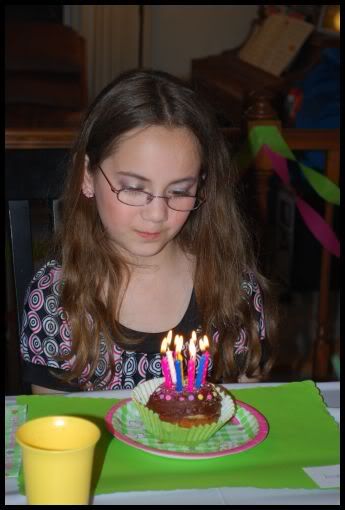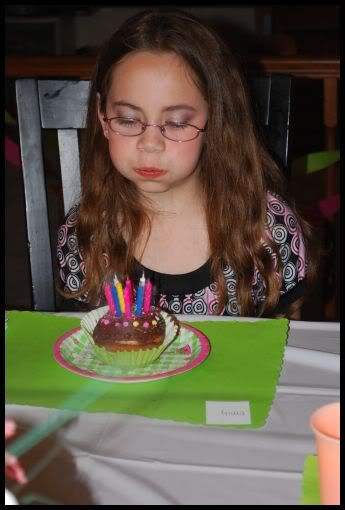 After they finished eating, we started movie #2 (Sharpay's Fabulous Adventure), and the girls got to snuggle up on the furniture with rice heat packs (which they also got to take home). Again, lame me doesn't have any pictures of it...
Once movie #2 was over, I got them in their sleeping bags, where some major giggling went on for another half hour or so before Dan told them they could talk all they wanted, as long as it was too quiet for us to hear. They were all sound asleep shortly thereafter (it was right about 12:45am by that point).
We served freshly baked cinnamon rolls and hot cocoa for breakfast, and once they'd eaten and gotten packed up and dressed, they launched into more karoake!
Emily told me at least ten times it was the best birthday party EVER, and there were loud agreements from her friends. The best part? I got to spoil the heck out of Emily and four of her best friends for an entire afternoon/evening/overnight/morning for the same price (if not less) as it would have cost to rent someplace for only two hours for a more traditional party.
I think I want a spa party for MY next birthday!