We took the kids to the science center on Mother's Day for the last day of the Star Wars exhibit. Because we're members, the entrance to the exhibit was only $4/each (entrance to the rest of the science center would have been free, but we didn't have time do the rest this visit). Part of our membership also includes 15 free Imax tickets (excludes special engagements, of course, but still leaves a fairly wide variety of showings throughout the year), so we used five of our free tickets to see the 3D showing of "Growing Up Wild". For $20 (plus gas/time), we had a FANTASTIC day!
The kids were very excited to see all the displays, especially self-proclaimed "Star Wars Freak" Jared, but I will admit to being a little disappointed in the whole set-up. When we saw the Harry Potter exhibit, the scenes were really intricately set up (Hagrid's wardrobe was set up in a mock-up of his house, the centaurs were displayed in a forest setting, as were the giant spiders... Many of the character costumes were displayed in settings similar to a scene in the movies, etc. For the Star Wars exhibit, there were just glass display cases scattered throughout; no scenery or anything. But it was still neat to see all the costumes, and Jared was really enjoying reading the information cards with each display; Connor enjoyed listening to the "listening devices" provided at each display, and Emily and Dan and I enjoyed watching video clips at each display, which discussed why they did some of the things in the movie the way they did them, or how they had several scaled down versions of the different ships depending on what the scene called for, etc. So it was still a very neat exhibit. Just not very VISUALLY exciting as a whole. If that makes sense.
Jared kept posing as if he were battling with a light saber... LOL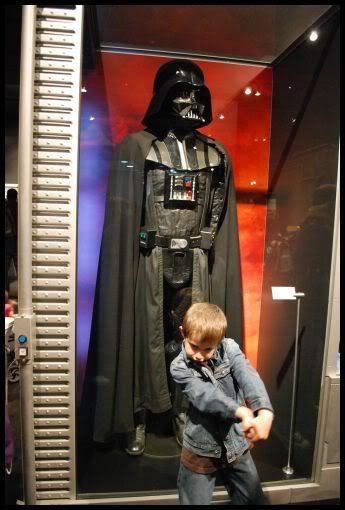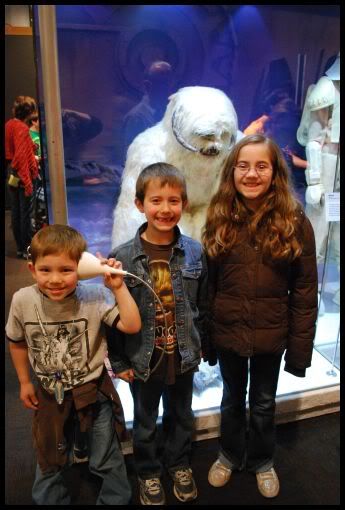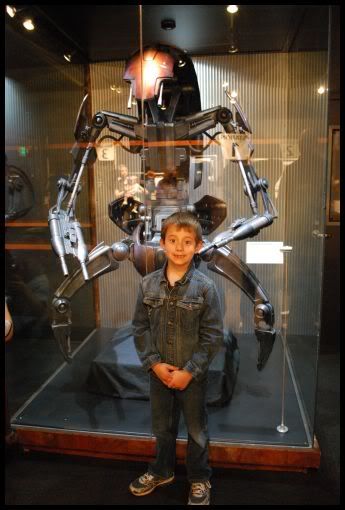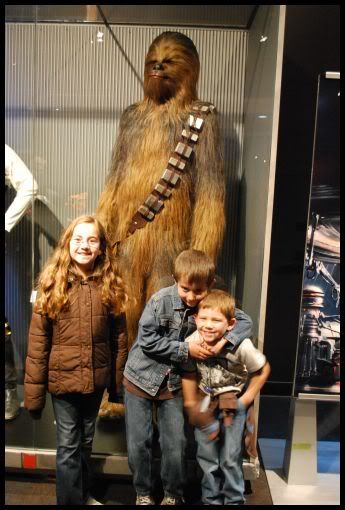 Connor got a real kick out of how little Yoda was!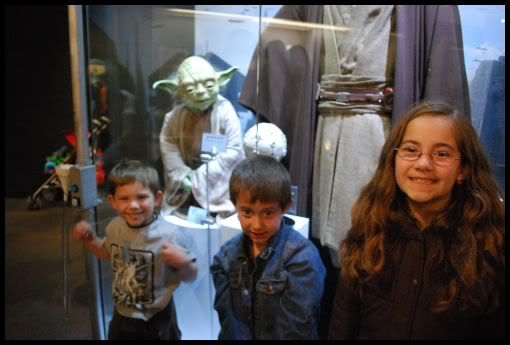 Connor wanted a picture of his head next to the Wookie's heads, so Dan put him up on his shoulders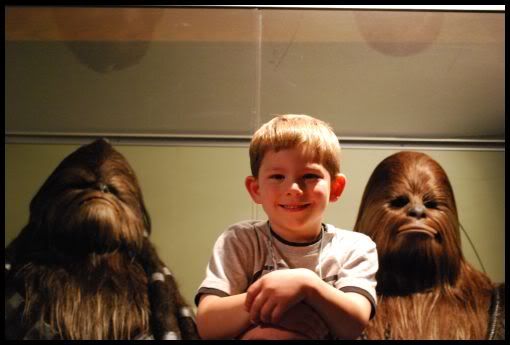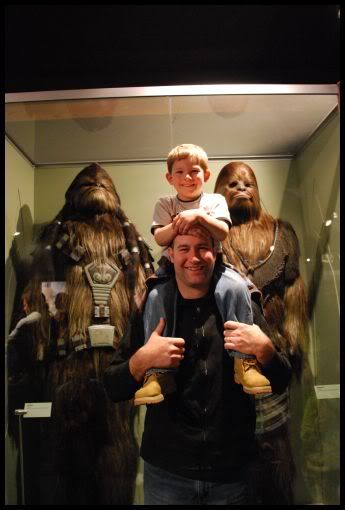 (Jared posing again...)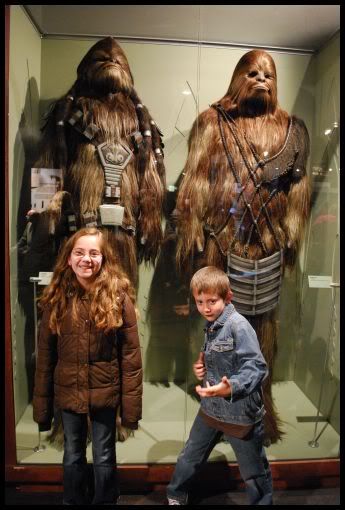 It took about 1.5 hours to get through the exhibit, and we had just enough time to walk over to the food court for lunch, before heading back to stand in line for the Imax movie. I would say it's the best quality 3D movie I've seen, and I'm sure it was due to the quality of the screen and glasses, rather the actual filming of the movie. But either way, it was awesome! Even Dan commented how cool it was. Everything was really clear, and CLOSE. You really felt like you could just reach out and touch the baby animals!! We all enjoyed the movie itself, without even taking the 3D quality into consideration. Connor, who LOVES everything to do with animals, especially monkeys (I know Orangutans are technically apes, but he's only 4 and I don't argue with him at this point... LOL), was beside himself with excitement seeing a 45 minute movie about baby orangutans and baby elephants. It was right up his alley!! It was neat to see how they rescue and rehabilitate the animals to be released back into the wild once they're old enough. Connor talked about the movie for DAYS after seeing it!!
Anyway, it was a really great day, and I enjoyed the time with my family very much! Gotta love a $20 full day outing for a family of 5!!