I saw an adorable baby hat online on Pinterest.com and HAD to recreate something similar for "my" sweet Madisen (okay, so she's really my friend Stephanie's, but I see her all the time so get to claim her, too! *grin*)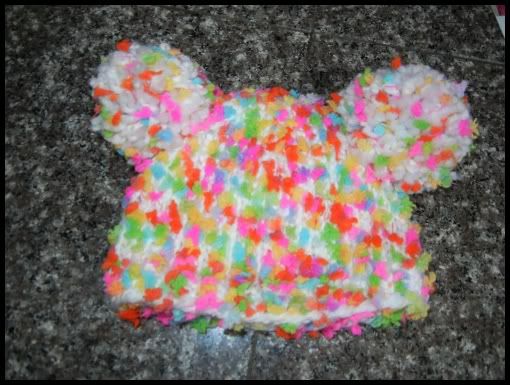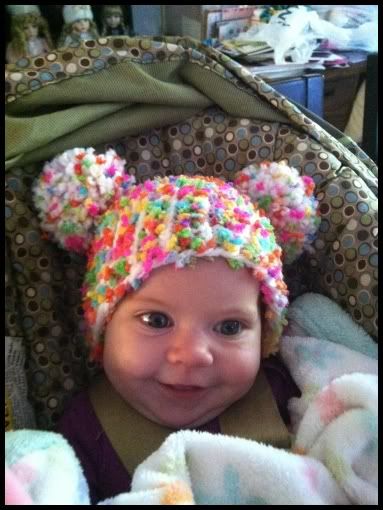 After completing the hat, I couldn't get the idea of Minnie Mouse of my head, so then I texted Stephanie and pleaded with her to have Madi be Minnie for Halloween, and I'd make a black version of the hat to be the mouse ears (while doing double duty of keeping her little head warm on a cold October night). Steph loved the idea, and I got to work. We still need to tie on the red/white polkadot bow, and I'm strongly debating larger pom poms, but will hold off until I see how they look with the bow, AND on Madisen's head.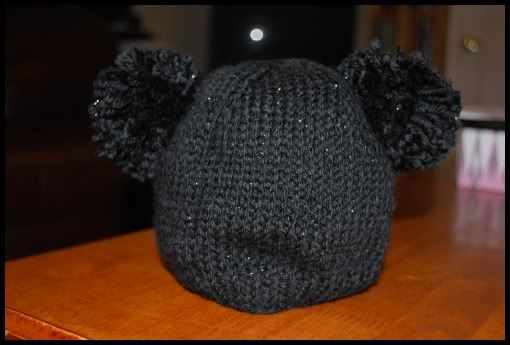 Em's hands have been getting cold while playing the piano, so I found a cute pattern online for some fingerless gloves. The pattern actually STUNK and never told you where to start building the cable pattern, but I was determined to make it work because I thought the gloves were so cute, so sort of created my own version of the original pattern and rolled with it from there. I think it worked out pretty well!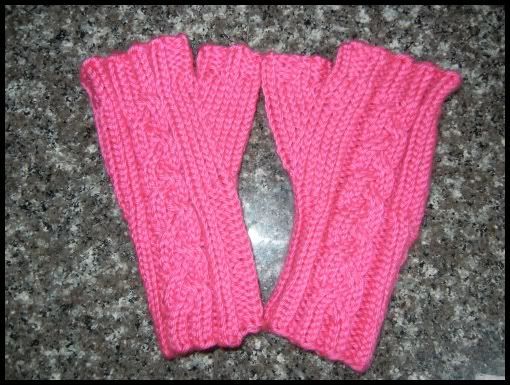 I'm working on a green pair for myself for while I'm knitting and still need use of my fingers, but want to keep my hands warm. LOVE!!
My friend Jami ordered an infant sweater/hat set from me to gift to her stepson and his wife, but they aren't finding out the sex of the baby ahead of time. We chose a yarn with multiple shades of brown and a pretty turquoise color, figuring it works for a boy just fine, and if it's a girl, we can bling it up with turquoise buttons and little bows on the sleeves, and a large flower or bow on the hat. Jami is going to gift it at the baby shower, but then keep it until the baby is born and we'll finalize it ASAP and get it to her.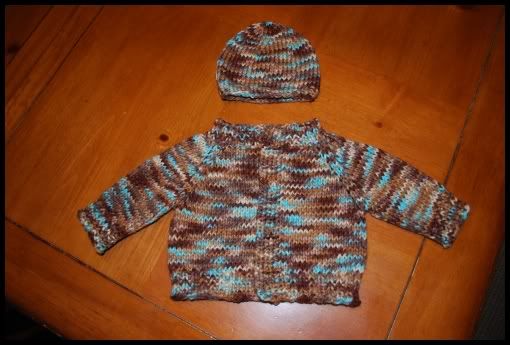 I also knit Emily some BEAUTIFUL leg warmers for during her two ballet classes, but they ended up too loose and won't stay up (FAIL!). I did a coordinating bun cover for her hair, which thankfully DID work out size-wise! I just keep forgetting to take pictures! I've even done a couple of coffee cozies.
I hadn't really had time to knit in MONTHS, and have been enjoying getting back into it, and completed several projects recently.