Instead of purchasing gifts for the kids this year, we opted to surprise them with a two night stay at Great Wolf Lodge for Christmas. There's nothing they really needed, nothing specific they really wanted, and they've been begging to go to GWL for YEARS. While we most definitely spent more money on the GWL trip than we would have on gifts, the entire outing was focused on family togetherness and FUN, and I couldn't have asked for a better family gift. The kids have zero complaints!
Now I know this may surprise those of you who know me well, but I purposely didn't take a camera. Knowing we'd be spending our time either in the water, or maneuvering through crowded hallways doing the MagiQuest, taking along my camera seemed like a waste of time. That's not saying I didn't randomly remember to pull out my cell phone so I'm not totally without pictures of our trip. There's just not many, and they're of poor quality. Better than nothing!
Storytime in the evenings was pretty cute. Truthfully probably didn't thrill Emily or Jared all that much, but they made the most of it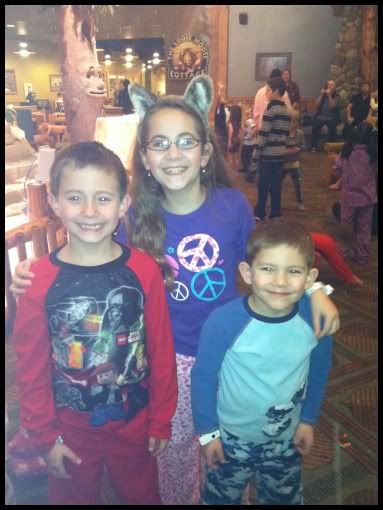 Em stood in line to get her picture taken with Violet, thinking her brothers would be joining her. When they didn't, she was really embarrassed to be getting her photo, but when she tried to dart off, Violet pulled her back in. LOL!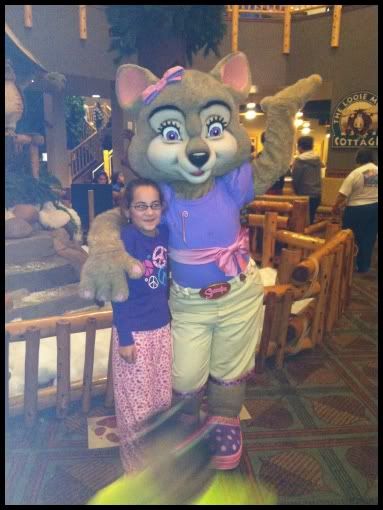 Due to the holiday season, it "snowed" in the building a few times a day (in the way of little blobs of soap suds, FYI). It was pretty magical feeling!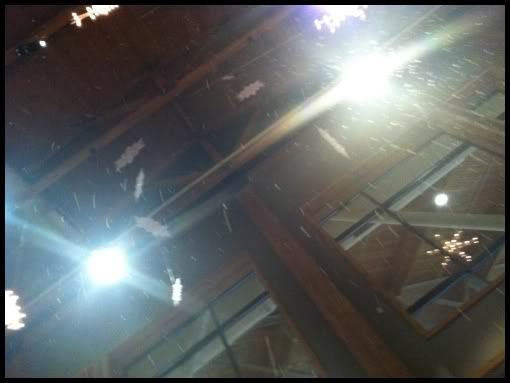 Kids had a BLAST doing the MagiQuest, but holy cow, do you get run ragged! Find something on the first floor, then dash up the stairs to the fifth floor, then down to the 2nd floor, and back up to the 4th floor, etc. Times three days and two nights. By the last day, even GO-GO-GO Connor was dragging his feet and begging to be done. haha!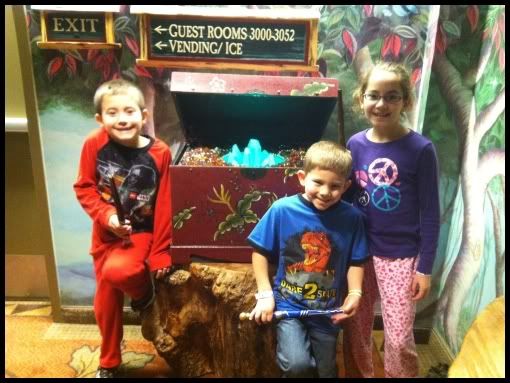 On Tuesday (our only FULL day there), we made the list for top points coming in at #17 (pretty impressive in my opinion, considering there were HUNDREDS of other people playing!)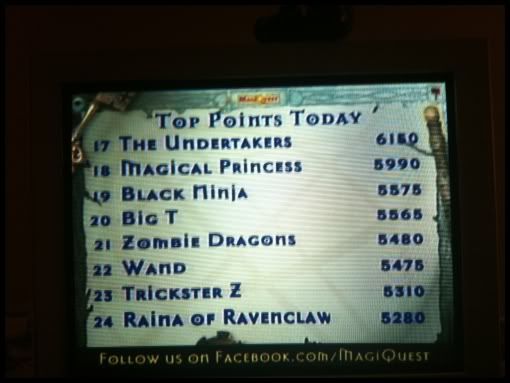 We also came in third top gold (Jared picked our name, btw)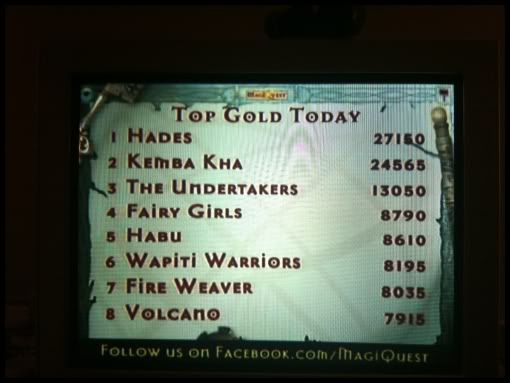 As we were eating lunch on our final day, the kids wanted to test out the drink "bears in the mud", which turned out to be a chocolate oreo milkshake topped with whipped cream and teddy grahams. cute!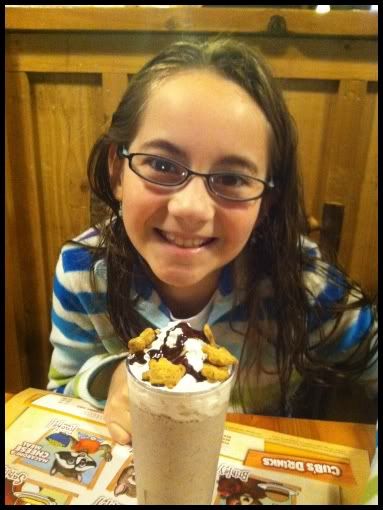 That all said and done, we had an AMAZING time, we have no regrets about going, we would definitely go again someday (and I would do a better job taking pictures with my cell phone! I'm totally kicking myself for not getting a pic of the kids in their "kid cabin suite", WHICH I might add, we got into last minute for a pretty sweet deal!), but I do have a few complaints.
1) We expected the food would be expensive, and came prepared for it, but I wasn't expecting the food to be TERRIBLE. First, my burger was served darn near raw, and when I sent it back, it came back out again minus the bacon it was supposed to have, and was so dried out I could barely swallow it. Dan ordered a mushroom burger something or other and said it pretty much tasted like nothing. Another time, Dan and I were picking out slimy bits of rotten lettuce from our salads. $70 for LUNCH shouldn't include rotten lettuce or tasteless, dried out ANYTHING. The kids liked the chicken fingers off the kids menu, and we all thought the $11.99 16in pizza was good. When we go next time, we'll stick to chicken fingers and pizza, or leave the location and eat down the street at DQ or something! We were really disappointed in the quality of the food. Even at Disneyland, the food at least tasted good after it cost an arm and a leg!!
2) There seemed to be very little training or plan of action for blood injuries on the part of the lifeguards or first aid attendants. Jared had three separate bloody noses (apparently due to the high humidity) while in the water park, and all three times we were treated very poorly. The third bloody nose was BAD and happened while Jared was in the middle of the pool. While I didn't expect the lifeguard to jump in and grab him from me, I expected at the point I reached the wall she'd be helpful in lifting him out of the water and onto the edge. NOPE! Then she handed him a very small square of guaze and whistled for help. 2-3 minutes later someone else finally showed up to help. No gloves, no trash can to dispose of the bloody guaze, no cleaning supplies to clean-up what had dripped all over the ground (bloody nose while soaking wet makes for a very large mess). Then he kept encouraging Jared to blow his nose (major no-no!), and also encouraging Jared to put the bloody gauze on the side table next to him, and this all AFTER he had Jared walk several feet away from where he'd been sitting, dripping blood the whole way. Heck, some kid pooped or puked in the kiddy area and they clear the whole section for 2+ hours, but Jared's covered in dripping blood and they're fine with him walking all over and leaving bloody rags on tables? Does that make sense??? Emily also bonked her lip in the wave pool and ended up biting into it pretty deeply. They told her to wipe her mouth, then said she was fine and walked away from us. Never offered us ice, never fully inspected the wound... Extremely helpful first aid station, eh?!!!!
***It should be noted, however, that in regards to their attentiveness to swimmers in the water, and people getting on/off the slides, the lifeguards were FANTASTIC. I was impressed with how they paced the edges of the pools, were constantly scanning waters, etc. My complaint is purely in regards to the dealings with actual injuries/blood.
3) MagiQuest was FUN FUN FUN, but there are times you can't hear your clue properly because other people are opening the big metal doors, or running up/down stairs, and you just simply CAN'T HEAR. But when you wave your wand for a repeat of the clue, it tells you you've already completed that mission. Without the clue, you can't move on to the next step, and the only way to then get the clue is to START OVER. My personal opinion is that clues should also either be written on the wall, OR you should have the option of hearing the clue repeated. After two restarts, we still can't tell you what the darn hawk in the stairwell was telling us about "three things" or something along those lines. MISSION FAILED on that one. We quit! ha!
Three days and two nights was a perfect amount of time. We had plenty of opportunity to use the water park, as well as do the MagiQuest. We found all the runes, and completed 2 (3?) of the Adventures before deciding we were too pooped to continue. We arrived at about 2pm Monday, and left around 3pm Wednesday. And we were EXHAUSTED (in a good way).
Oh, and speaking of the water park, I'll just throw it out there that I'm not a real fan of going down backwards on the Tornado, in the dark of the night, especially not as a first experience down the slide. I'm not ruling out the possibility that I suffered a mild heart attack during the experience. LOL!!!!!!!!!!!!