My friend Kaci is due with baby #2 in February, so as soon as I got through the Christmas rush, I finally tackled some of the projects I'd planned to make her for the baby-to-be:
this little hat has a removeable bow, which is actually a hair clip for when baby is older!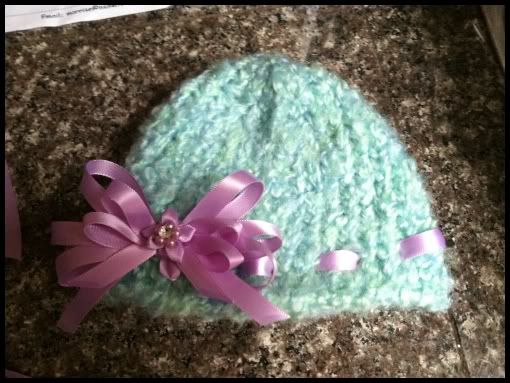 I've been seeing a lot of squared off hats lately and I think they're so cute! I made this one big so she'll have it for next year
I've also been seeing these
snuggle snacks
all over Pinterest and had to give one a try!
I dug out Em's old doll, "Boy Baby", to show off how it looks. He's a little bigger than a newborn baby, so there should be some growing room in real life.
The same weekend I finished up Kaci's gifts, I found out my friend Kristina and her husband had been chosen to adopt a baby, so I scrambled to whip up a few hats to send to her. I stupidly assumed the birth mom (or birth parents, in this case), would choose them a month or so before the birth and we'd all have a little warning, but as it turns out, they got THE CALL and TA-DA, they're immediately new parents! I'd have done a little snuggle sack for baby Mikey as well if I'd had a bit more notice, but since he's already HERE, I didn't want to waste any time getting him his gifts!
And then with a little encouragement from a friend (thanks Kelli!), I got online, figured out how to crochet (at least how to crochet the stitches needed for this particular project), and crocheted Connor this
monster hat
from Pinterest
The eye is a little messed up, but I'm overall quite pleased for a first attempt at crocheting!! Emily and Jared have already put in requests for their own monster hats. *grin*