You might remember me talking about Jared's first swim meet back in October. He'd only been on the swim team for a month, so hadn't learned many of the "rules" and specific techniques of each stroke, and hadn't really done flip turns or starts yet. He ended up being disqualified for various reasons in three of his four events. He was feeling a little nervous leading into this second meet, but was excited to try and finish with official times (no DQ's).
He had four events Saturday (25yd breaststroke, 100yd breaststroke, 25yd freestyle, and 100yd freestyle) and two events Sunday (50yd breaststroke and 50yd freestyle).
Here he is during the warm-up before the meet started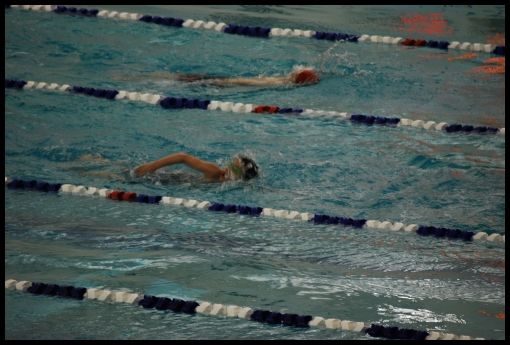 In the staging area preparing for his first event (25yd breaststroke)--He's the third one from the left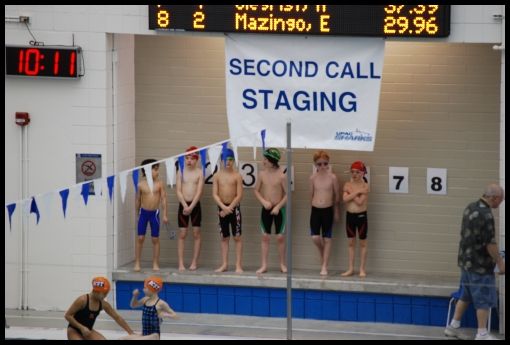 Swimmers take your mark!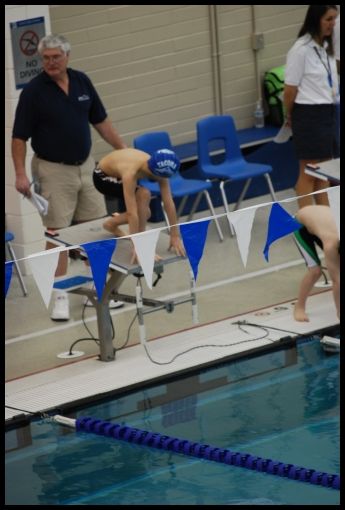 GO!
Finished first in his heat, and 3rd place overall for this event, which earned him a ribbon!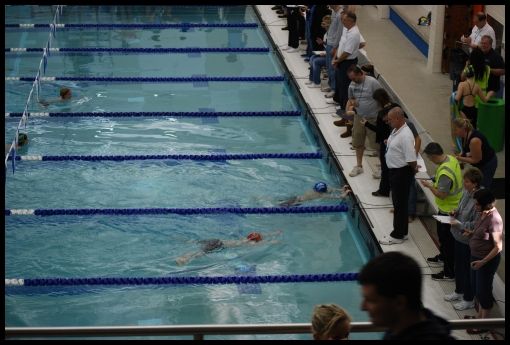 Out of his six events, he only DQ'd one event, by forgetting what stroke he was supposed to do, and swam a couple strokes of freestyle before realizing it was a breaststroke event, and correcting himself. Lesson learned for us: when we write his event numbers, heat numbers, and lane assignments on his arm, we need to also include the stroke and distance!
At this pool, parents had to sit up the bleachers (balcony bleachers), and the swimmers had to stay down on the pool deck. We didn't get to sit with our swimmers to help them know when their events were coming up, so we were all writing on our kids's arms so they could follow their own events. I was a little leary of how well that would work out, but Jared did great with it!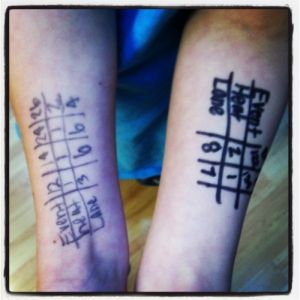 Official placings for this meet:
Age 8 and under 25yd breastroke: 3rd overall
Age 8 and under 25yd freestyle: 2nd overall
Age 10 and under 100yd breaststroke: DQ
Age 10 and under 100yd freestyle: Got a personal best time, taking 6 seconds off! Placed 22nd out of 32
Age 10 and under 50yd breaststroke: 13th out of 27
Age 10 and under 50yd freestyle: 18th out of 30
His 2nd and 3rd place finishes earned 13 points for his team. He's really disappointed that he DQ'd the 100yd breastroke for the 2nd time, but his coach told him it's the most frequently DQ'd event. Three other kids DQ'd as well, AND he was the only 8 year old (he's the youngest kid that swam the event). I say getting official times for 5 out of 6 events, two ribbons, and a personal best time is something to cheer about!