We took the kids to Seattle the day after Christmas in order to go ice skating for the first time, and to get some use out of our Children's Museum and Science Center memberships.
Ice skating was pretty touch and go for Dan and I. I thought for sure I was going to fall and really hurt myself, but after the first two or three laps, I found my balance a lot better. Dan wasn't too into it, and Jared was liking it until the top of the boot started rubbing his leg wrong, no matter how much we tried to adjust it. Emily really enjoyed it until we'd been there for about an hour and a half and she got cut off by someone and ended up falling HARD on her hands and knees. I heard her knees hit the ice and knew that was it. She was super brave and bit back the tears and hobbled off the ice as her knee swelled up and was instantly black and blue. Connor was a fearless crazy man on the ice. He was going as fast as he possibly could, jumping up and doing two-footed landings, balancing on one foot as he skated, attempting flat footed spins (and going 2-3 times around), etc. He also spent about 50% of his time crashing onto the ice, but the 50% of the time he was UP, I was very impressed with his first time ice skating! I guess it pays to be fearless! I hadn't anticipated him being soaking wet at the end of an hour and a half, so hadn't packed extra clothes. Thankfully, he was a pretty good sport about spending the rest of the day damp. His hips, butt cheeks, elbows, and knees were big-time bruised the following day, but he's already asked several times when we can go ice skating again!
I didn't get many pictures because I was too unsteady on the ice to feel comfortable having my phone/camera in my hand!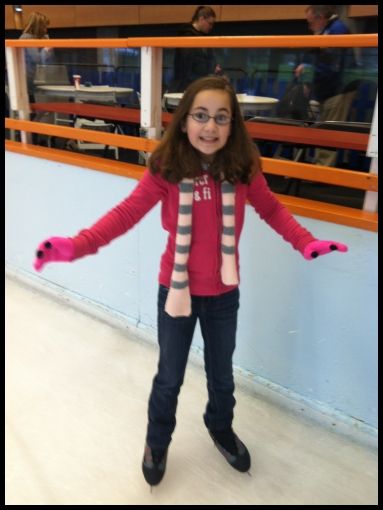 The pictures I got of the boys are too blurry to bother sharing...
Connor and Emily in Connor's favorite spot at The Children's Museum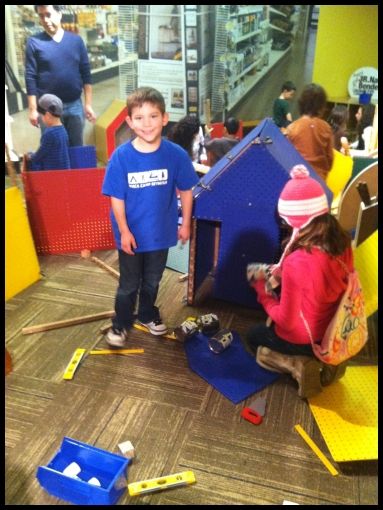 We saw the Michael Jackson matinee lazer show at the Science Center, and I honestly wouldn't recommend it. Parts of it were pretty cool, but the not-so-cool parts of it were REALLY not cool. That said, it was free for us to see it because of our membership, and it was only a half hour, and now the kids can say they've seen a lazer show. I wonder if the longer evening performances are better? I saw one a LONG time ago (20 years or so?) and remember thinking it was pretty neat, but who knows!
After a full day of playing, Dan drove us around through Seattle's down town to see all the trees and buildings lit up for the holidays. The kids were really impressed with this gigantic star on one of the buildings (cell phone camera wasn't very cooperative taking pictures through the rainy windshield!)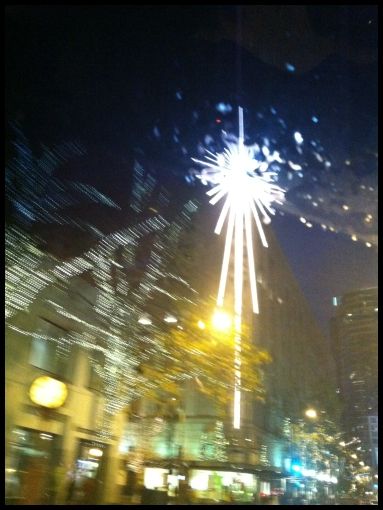 And we all thought the trees wearing holiday sweaters were pretty fun!