I hard-boiled 36 eggs (12 for each kid) Saturday in preparation for the Easter egg hunt we had planned for the kids. We dyed them first thing Easter morning (Saturday got away from us!), got some baking started, and then I went out and hid 34 eggs (two cracked while being boiled, and although they were still edible, I didn't want them out exposed to who-knows-what if we hid them outside!).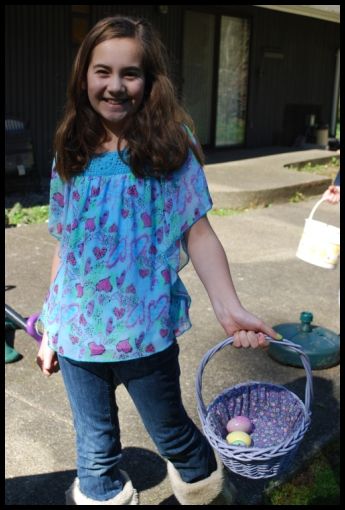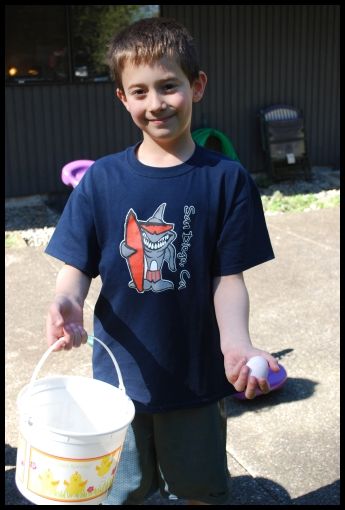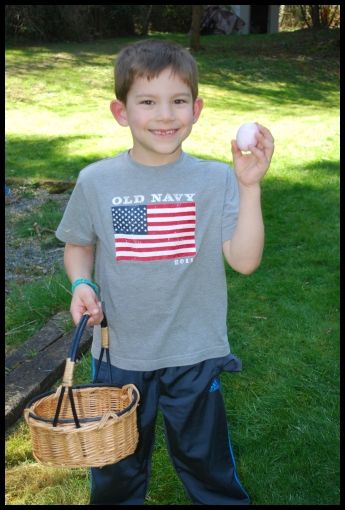 Emily and Jared started finding eggs right away, but Connor was doing a lot of running around without a whole lot of REAL looking. They eventually found 32 eggs, but heck if we could find the last two. I went around looking everywhere I'd hidden eggs and couldn't find the remaining two either. The one I didn't actually look for myself was the one I'd hidden by the hot tub, but asked the kids if they'd found that one, and they all said "yep!". WELL, I finally wandered over there myself, and sure enough, an egg hidden there... After a good 15 minutes of searching for the final two eggs and only finding one, we gave up and were heading back inside when we noticed this: (ignore the dirty mat! I need bang it out badly!)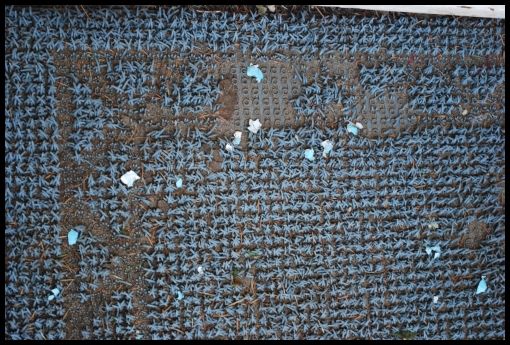 I'd sworn I'd hidden a blue egg on a big rock in the garden, but none of the kids claimed to have found one there, so I thought maybe I'd moved it elsewhere. Turns out our black lab moved it (into her STOMACH!).
I had the kids line up after all the eggs were found so I could take their picture, and look who's sniffing around... I think we're lucky she only ate ONE!