We're currently sprucing up the house a bit, in order to make it look nicer (and hopefully SELL QUICKLY). We ripped out some ugly wood paneling from within the entryway, and I got to work mudding and sanding.
WHAT A MESSY UNDERTAKING!!
Emily Grace took this picture with my cell phone
All the holes and tape lines mudded down one of the two long walls
Time to sand! Promised Dan I'd wear the respirator he got me...
VERY MESSY
Didn't think to have a way to clean up my feet before walking to answer the phone (or tell Pandora Radio YES, I'm still listening...), so I had a pretty little trail of white footprints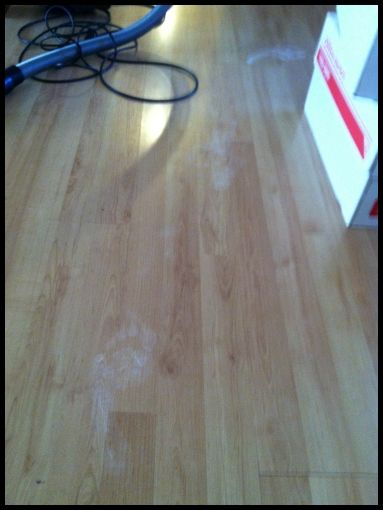 Messy ME
The picture doesn't show very well just how white my hair was from all the dust. Pretty funny!!!
In the end, I had a nice smooth wall, ready for spackle (which has since been done as well, but I didn't take any pictures of that)
May have taken me five times longer than a professional, but I'm pretty dang proud of my work. *grin*