5 things:
1. I had the deep fryer out.
2. I had an onion.
3. I decided to treat Dan and the kids to
onion rings
with dinner.
4. I found a recipe online and got to work.
5. The onion rings were a huge success, and here's the BIG NEWS:
I tried one, and liked it!!!!
(I cut them a little skinny, and I didn't have a wire rack to let them drip for a few minutes, so they're funky looking, but they were YUMMY!)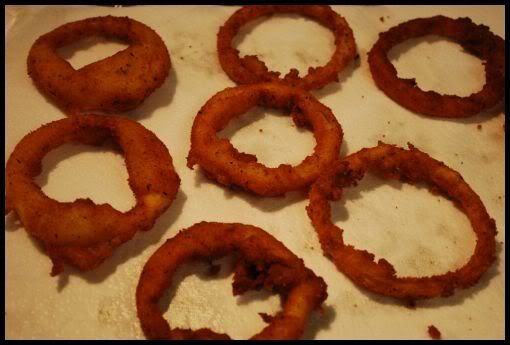 My mother just fainted from shock...
Onions were not allowed to touch my lips as a child (not for lack of trying on her part!), and while I've introduced onions into my life in small amounts as an adult (tiny chopped onions in home-made soups and whatnot), I wasn't willing to do any large pieces/bites. But you know what?? They smelled SOOOOO good, and I couldn't resist one bite. They were good! Big pain in the hiney to make, though, and then I had dirty, onion smelling oil to dispose of afterwards, so ME making them will probably never happen again, but I will partake in the eating of onion rings at restaurants in the future (assuming they taste as good as my home-made ones did).
The End.