Dan and I took the kids snow tubing last Thursday night. We were supposed to go with another family, but I got tickets online in advance, and they opted not to. They changed their mind later in the day and went to get tickets only to discover the session was sold out. You can't change your "reservation" if it's within 48 hours of your scheduled arrival, so we had to go without them, but we still had a FANTASTIC time. It was a balmy 15 degrees when we arrived and started bundling ourselves up in the parking lot. I quickly discovered the expensive "snowboarding" gloves I'd purchased from Big 5 weren't that great, but I sucked it up and had fun anyway. Next year I'll pack hand warmers to stuff inside my gloves!
I did take a bit of video of the kids going down the hill (but with frozen fingers and bulky gloves, AND it being a new camera, AND it being very low light because it was at night, I wasn't able to zoom or get much worthy of sharing...), and then had a huge scare at the bottom of the hill when my video camera was no longer in my pocket! I got back to the top and started asking the attendants if anyone had turned in a video camera and they all said "no," until the guy at the furthest end away said it HAD been turned in, and that it was given to the "lift operator" (the deal you hook your tube to in order to get pulled back up the hill, who was the first person I'd asked). So I trucked back over to the lift guy, who said he still hadn't seen it, but to check the ticket counter. So I trudged along way back over to the ticket counter, who sent me to the cafe upstairs, who sent me back out to the attendants (at this point, I was getting quite discouraged!), where I met up with one of the attendants who had finally tracked it down and was searching for me.
Needless to say, the video camera got put in an interior pocket of my jacket and didn't come out again!!
We took Em's point and shoot camera to try to get some pictures, but it was acting up (wouldn't take pictures until you'd held the button down for a LONG time!) and after one shot of each of us, I gave up (and after temporarily losing my video camera, I was happier leaving her camera safely in the interior pocket, too!)
It was so cold that the straps and the fabric covering over the tube were pretty much rock hard!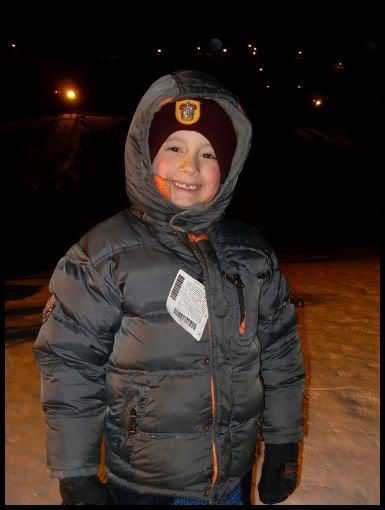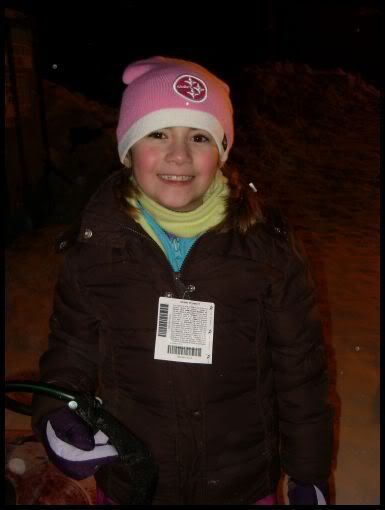 not sure where the "fog" came from in the next two pictures. It was actually a GORGEOUS clear night, with bright twinkling stars filling the sky!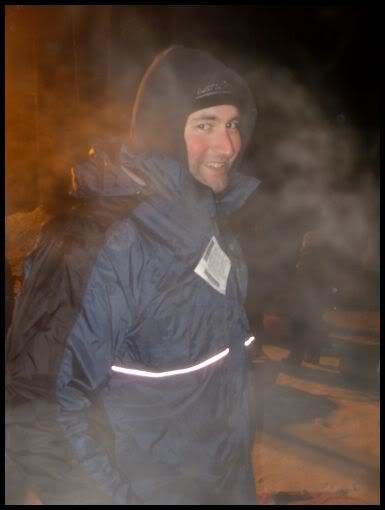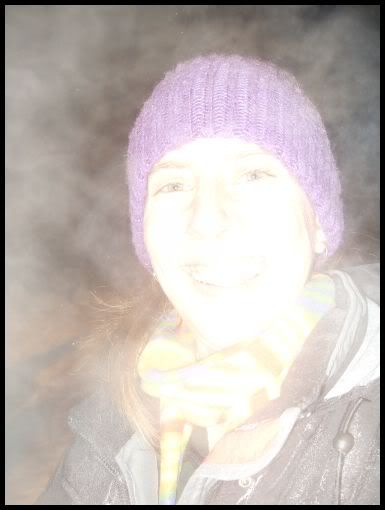 Em and J each went down the hills on their own, but it was suggested at the ticket counter that we have Connor ride with an adult. Which we had him do for almost the whole time, but he kept asking why he couldn't go down by himself, so finally, Dan grabbed him a tube, sent me down first to help Connor at the bottom, and then sent Connor down, who whooped it up and laughed hysterically the whole way down. I couldn't get the camera to take his picture until after he was halfway back out of the tube!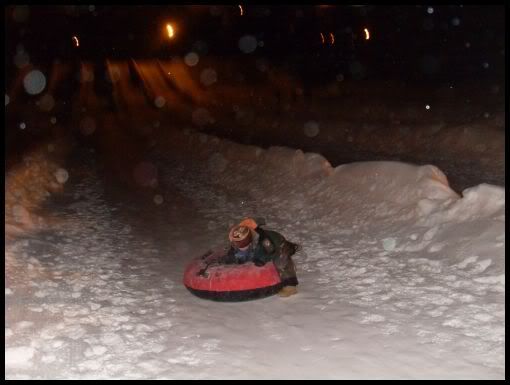 I can honestly say I'm pretty sure I would have been terrified going down those hills on my own at his age! They're quite steep and FAST!! But my little adrenaline junky Connor loved every minute of it.
The place was pretty cleared out by about 8pm, and by 9pm (the end of the session), there were probably only 25 people left. We felt like we had the run of the place!!! The kids were so bummed when the session was over; they had SUCH a fantastic time. We headed back to the car and got off all the layers of clothing, then we changed the kids into cozy pajamas for the ride home, and got out the hot cocoa from the thermos we'd packed. The car thermometer said it was down to 13 degrees as we were leaving.
Minus my cold fingers, not getting to go with our friends, and temporarily losing my video camera, it was the PERFECT outing. If it weren't for the price ($73 for my family of 5, and once Connor is 6, it'll be $84!), I'd be chomping at the bit to go again.