Connor was in his first dance recital last week, performing with his level 1 Hip Hop class. Super stinkin' cute!!! He invited his Kindergarten teacher to come watch him perform, and he was soooo thrilled when she came!
There were four shows total, and between my two dancers, we participated in three of the four shows. Emily was in the audience for the first time EVER (Connor performed in the morning recital, which she wasn't a part of). She enjoyed getting to see the performances, since she's usually backstage and misses out!
We sent Connor home after his show was over, and then launched right into Emily's two shows. It was a LONG day, but well worth seeing the kids enjoy themselves. Connor had been very nervous about being on stage, but told me afterwards that he really likes his regular class, but he wishes they could do the stage stuff more often. LOL!
Emily and Katie dressed and ready for their ballet performance (they performed this routine in both the mid-day show, and the evening show).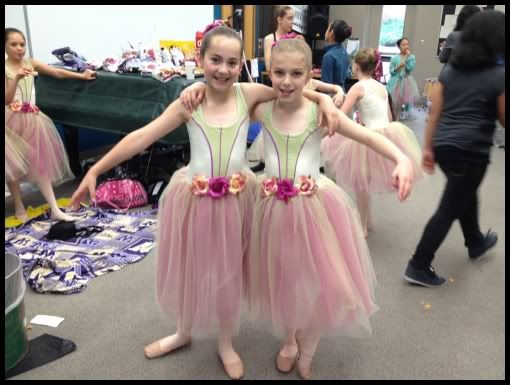 There was another ballet routine they got to perform, but they didn't have a costume for it, so I didn't ever bother taking pictures backstage (they just wore their regular practice leotards and had a ribbon in their hair)
Katie, Emily, and Katie waiting for their tap routine (performed 2nd half of the evening show).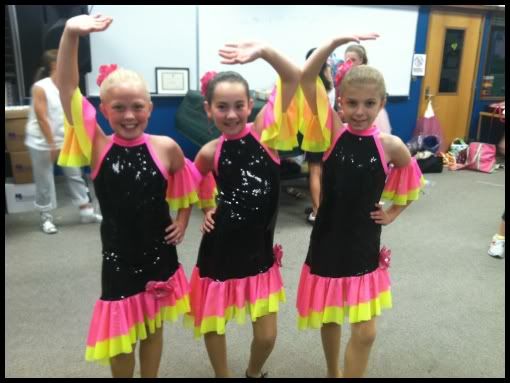 We hadn't really had time for much more than little snacks here and there throughout the day, so I took Emily out for some food on the way home (around 9:30pm!). She picked McD's. We hit the drive through so we could just go home and relax, but then we saw one of the Katie's inside with her family, so we parked and went in after all.