Just TRY and prove me wrong...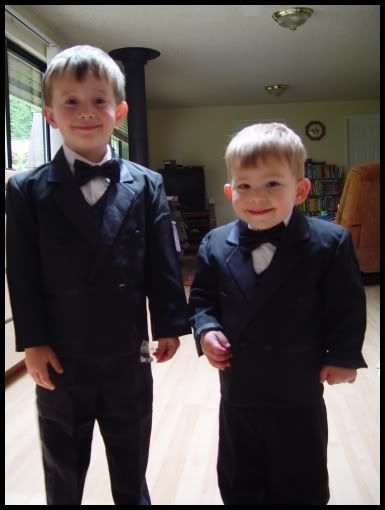 The tuxes for the boys came in the mail and I can't tell you what it did to my insides seeing my little guys all duded up. Very bittersweet, I have to admit! We ended up purchasing these from Dressmeupcute.com and including shipping, they cost $48.91/each, compared to AT LEAST $65 all the places near here were wanting to rent them to us for. Granted, they didn't come with shoes, but I got those at Payless during their BOGO sale, so I still came out ahead, and we OWN the tuxes and shoes for less than we could rent. So even if the boys never use them again, they're nice keepsakes.
Jared's is a perfect fit, but Connor's needs some hemming of the jacket sleeves and pant legs. Should be pretty easy. I also need to take the waist in of his pants, but that won't be a problem either. I'd exchange for a smaller size, except the white shirt and black vest fit perfectly and I can't imagine the next size down still fitting for those items, so I'd rather just hem the jacket and pants. I'll wait until mid-August before I bother with it, though, just in case he suddenly gets taller!
Ohh and ahh people, I know you want to!! Need another look before you leave? Here you go!