My friend and cousin-in-law-to-be (LOL!), Jessica, and I took our kids to the zoo together Monday. We started out our day at the mall getting pictures of my kids done, finding shoes to go with their wedding attire, and getting lunch to go from the food court. This was baby Grace's first trip to the zoo, and I purposely avoided including pictures of her on my blog so Jess has something to post on her own blog for the viewers we have in common...
It was a gorgeous sunny day, and though the parking lot seemed REALLY full, I never really felt overly crowded within the zoo itself. Connor was on foot for the first time ever (on a harness for his safety and my sanity), and he absolutely had the best time at the zoo I've ever seen him have. Usually, he's rather restrained to the stroller, because it's just more hassle than it's worth buckling him in and out to see each exhibit and generally results in a ticked off Connor and exhausted parent(s). He loved the freedom of being able to walk around, but I didn't have to worry about him darting off and getting lost in the crowd, etc. I was rather against those harnesses prior to having kids, and still hesitant about them with Em and J, but actually tried one out with Connor and he LOVES IT! Begs to have it on...
See how cute he is in it?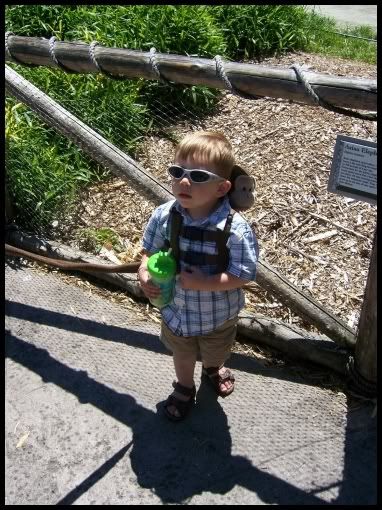 And how proud he is?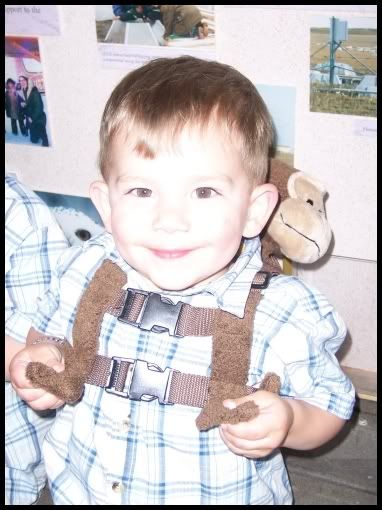 We were so busy gabbing away and oohing and ahhing over all the animals, neither Jess nor I thought about taking pictures until we were almost done. Here's one of the kids all looking up at the baby bird in a nest in the rafters of one of the viewing stations: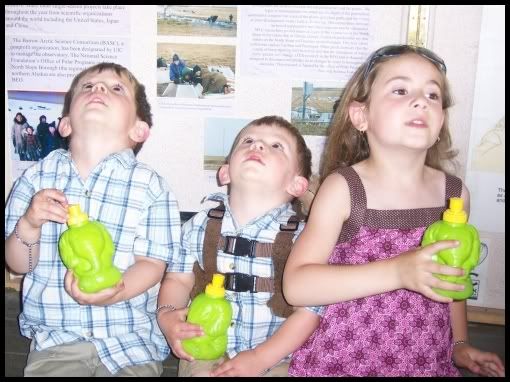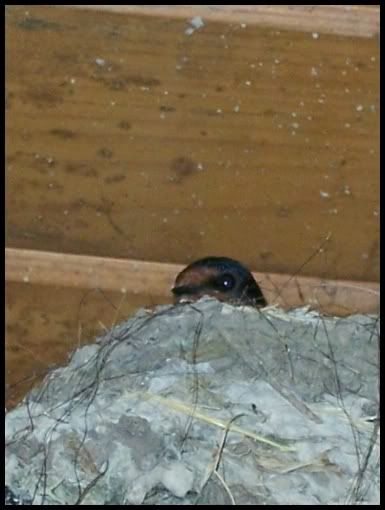 Now they're showing off their elephant sipster cups I got suckered into buying (we've never been to the zoo on such a hot day and I came incredibly unprepared in the way of enough fluids to drink)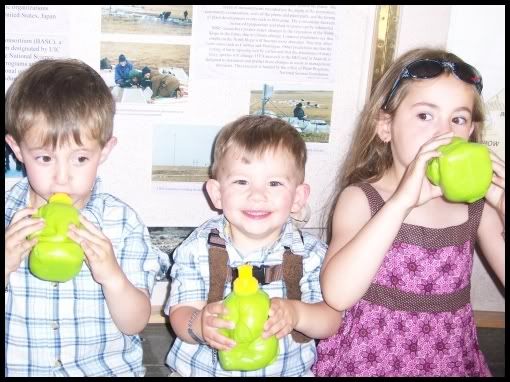 We spent some time checking out the newly expanded learning/play area. Here's the kids in a nest!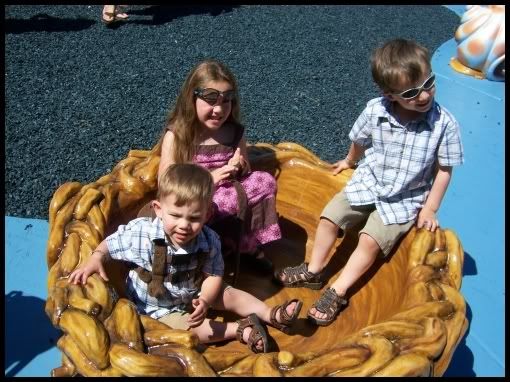 Here's Connor concentrating long and hard as he navigates the spider web climbing area: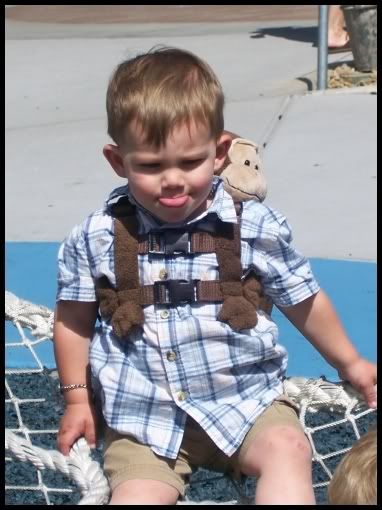 Of course we had to test out the "otter" slides (always a favorite!)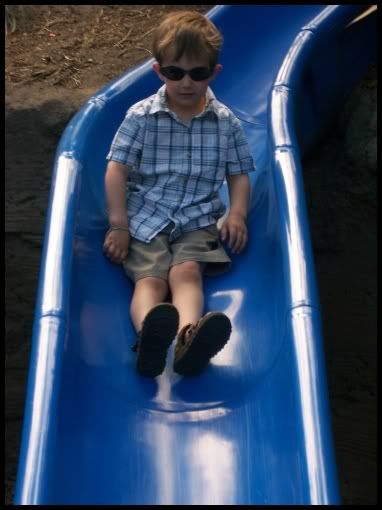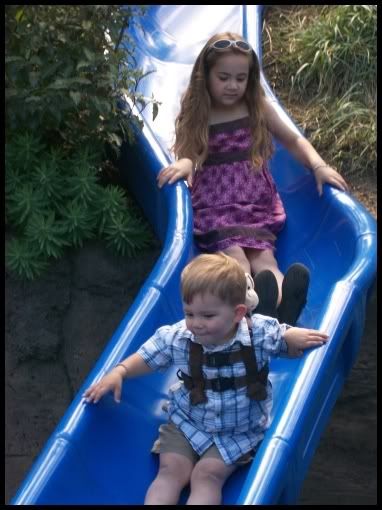 Look at Jared, the hermit crab!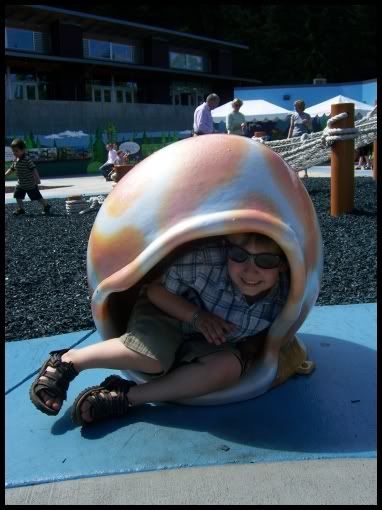 JUST as we got back to the entrance/exit of the zoo to head back to the car, Connor had reached his limit (no nap that day, after being out of the house from 9:45am on), so I tied him into the Mei Tai on my back and he was SOUND ASLEEP by the time we got up to the car: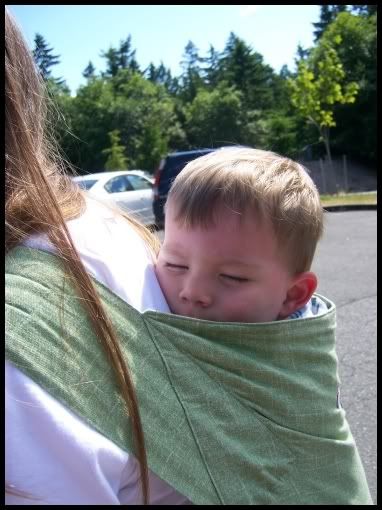 Normally, he'll tuck his little arms up in there, but it was so hot he just left them flopped out. LOL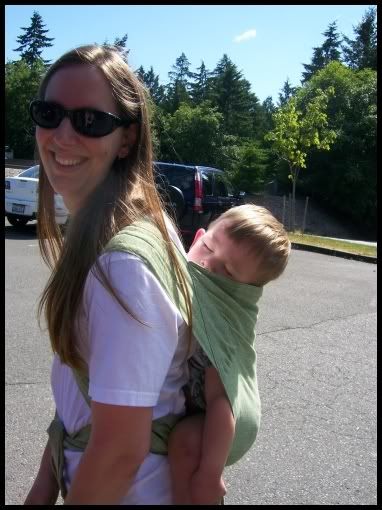 (PS I haven't really worn him in that for a long time as he's getting heavy and is truly happier on foot, but it's come in handy more times than I can count, and always draws several comments from people who think it's just the neatest thing. SO, I'll toot my own horn and explain that I made this one, but they sell them all over the place online if you google "Mei Tai". Target even has a $40 version they just came out with, but I can't give any sort of recommendation on how good it is or not, but I was happy with my home-made one, so I'd imagine it can't be worse than that!)
Connor barely flinched when we got him off my back and into his carseat, and the other three kids followed suit SHORTLY thereafter (you can't see Grace because she's rear-facing still, but she was asleep also!)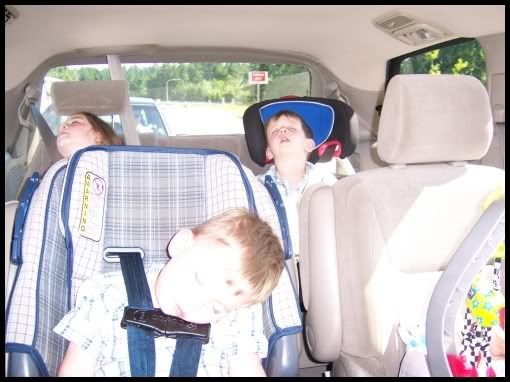 I woke up Connor when we got home, because it was getting late in the day. I set him down in his little kid recliner and went out to unpack the rest of our stuff, and came back in to find him sound asleep again: