What's a pirate's favorite place to eat?
ARRRRBY's!
What's a pirate's favorite letter?
ARRRRRRR!
What does a pirate want his cake to look like for his 4th birthday party?
A SHIP, of course! (yes, that's Captain Hook on there, but it's the only pirate character I could find that didn't involve me having to buy whole sets of pirate legos or something. He was a whopping $1 at Dollar Tree, so I figured it worked fine and dandy)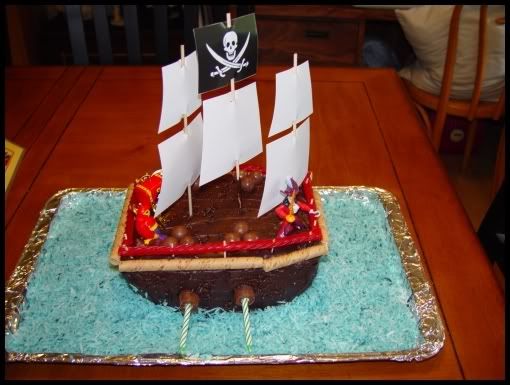 Notice the treasure chest candle and gold coins, and the parrot? LOL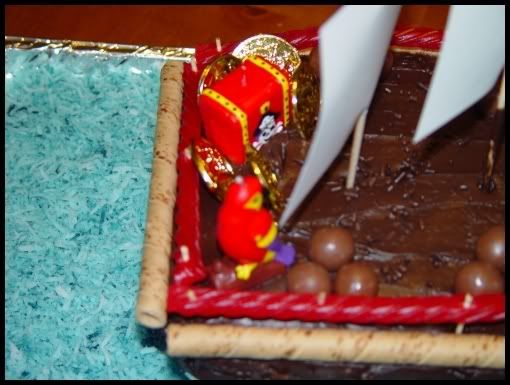 Oh, and the malt balls are supposed to be cannon balls. Jared wanted to know how in the world the cannon balls were supposed to get into the cannons when the cannons were really far down the ship and SKINNY. Unappreciative audience, I tell ya!
And because I wasn't positive the ship would work out and be presentable, I also ordered a cake from a local grocery store, requesting it be pirate themed and treasure-map-like. I think it turned out pretty great! (I requested the wording, and added the gold coins and the pirate candles once we got it home)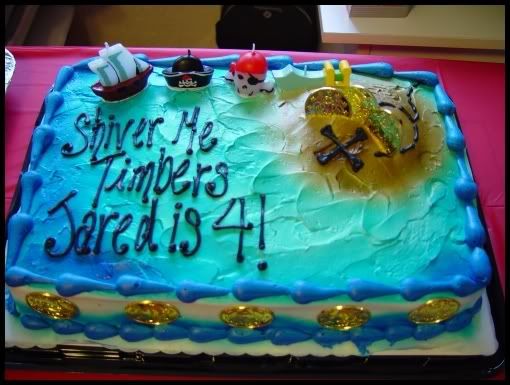 But let's ooh and ahh over the pirate ship again, shall we?