We made it to a whopping 70 degrees today, and though I stand firm that it wasn't nearly warm enough to be running through the COLD water coming out of the sprinkler, the boys were starving for summery activities and went for it. Jared refused to let me take his picture, so I only have pictures of Connor to share. Emily didn't want to run through at all.
(I love how "real" Connor is when I photograph him. He doesn't really know how to do fake smiles, or how to pose; I just really enjoy following him around capturing his little moments in life.)
I think this first one describes his enjoyment of the day rather well, wouldn't you agree?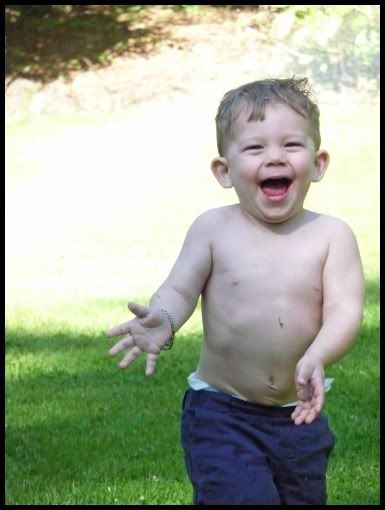 The sprinkler would rotate around and get him, and he would squeal and laugh and throw his hands in the air, sometimes ruffling up his hair, sometimes not. Then he'd dance his little feet around and laugh and laugh while he waited for the sprinkler to come around again. (notice a bit of rainbow above his head?)
I caught him here, just as he'd do the initial gasp from the cold water, just before he'd do the other stuff (pictured above)