I've been in five accidents, and NONE of them have been my fault. The first four times I got backed into (twice, I wasn't even IN my car when it got backed into, and the second time was by a school bus!). This is the first time I've been rear-ended, and it was a very scary experience. I think I wouldn't have been as shaken up had I not had my kids with me, but knowing that any one of them could have been hurt really shook me up! The people who witnessed the accident didn't stop to offer their help or to make sure everyone was okay before driving past the scene. The one person who DID stop a few minutes later was Emily's Kindergarten teacher, and she stayed with us the entire rest of the time, and even followed us home to make sure we made it safely.
Here are some pictures: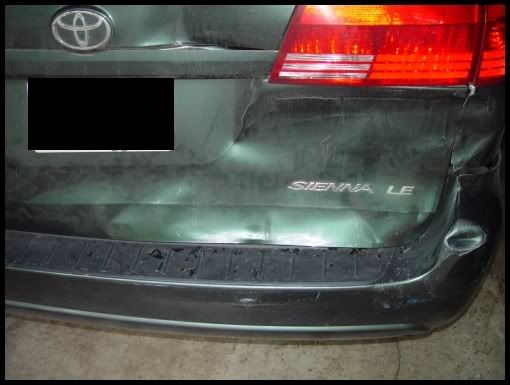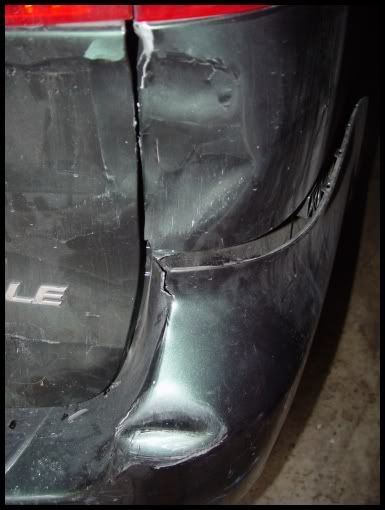 The back window is totally gone, minus a few very small sections still clinging on. There's glass all over in the car, too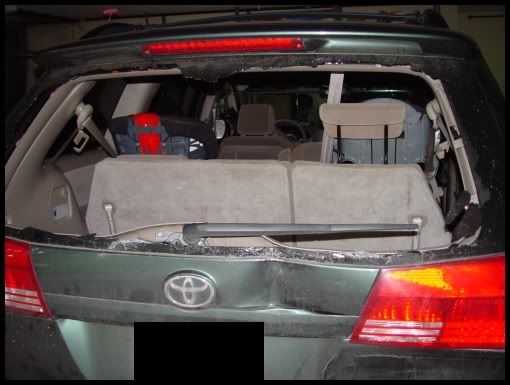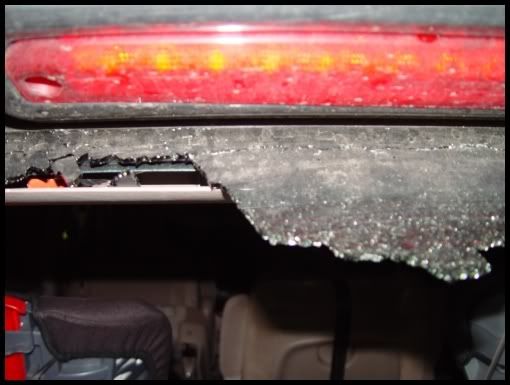 The kids all seem fine, but I'm having some ride side and hip pain. I just got back from the doctor and have been prescribed muscle relaxers and pain meds. THe doctor said she could feel the back/side muscles spasming under her fingertips as she was feeling around. They think my injuries are becuase my foot was on the brake. I can move around, but my side and hip feel achey and sore and I have to move carefully when I bend or twist.
We're waiting to hear from the insurance adjuster before we can see about getting the van repaired. The girl's insurance company heard about the accident for the first time FROM US this morning, and they've been unable to get ahold of her today. SIGH
I'm going to take some of those pain meds and go relax. Bloggy friends, forgive me if I don't view and comment on your blogs today; I'm not up for it, and tomorrow is J's birthday so we'll be busy with him. I hope all of you are well and I will update when I feel better!!